Wen 6550 Planer Review: Is It Worth The Price?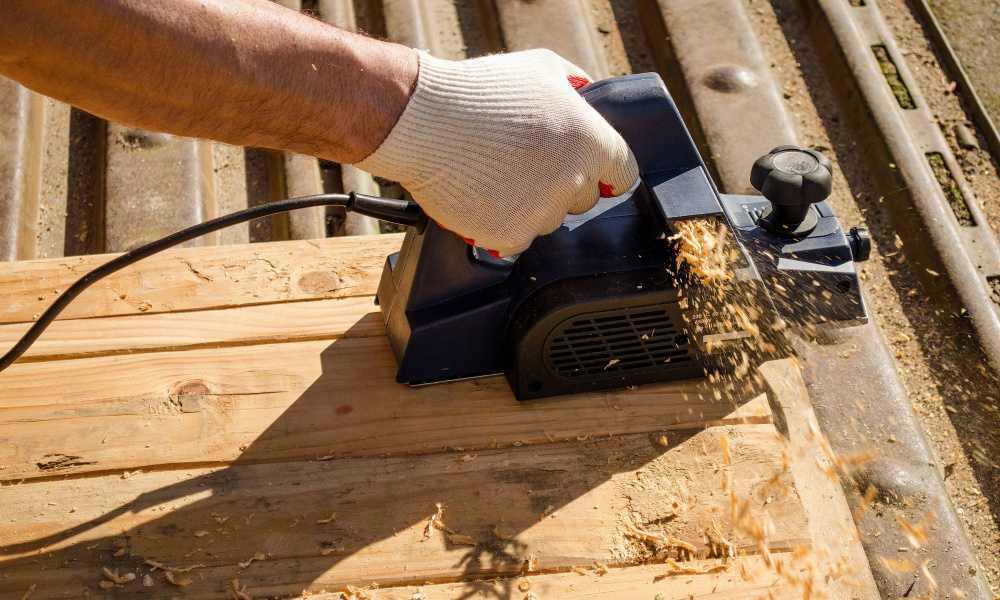 Wen 6550 Benchtop Planer with Table: QUICK OVERVIEW
There are many bench-top planers on the market today, but many times you'll find yourself limited to a small selection which have all features that you need when using a bench-top Planer. You should be looking for a bench-top Planer that has both dust collection and also an indexed knife.

Bench-top planers that don't have the dust port will end up creating an even bigger mess and flooding your workspace with dust and other particles. An indexed knife will have pins that can help the knives project the same amount of pressure and run parallel to the bed of the machine. This feature can help take the hassle out of changing the knives and also greatly speed up your projects.
Wen 6550 Benchtop Planer with Table Review
The Wen has a 12.5-inch bench-top which features an all granite table. This ensures that you'll have perfect support for your wood boards while you work.
Granite can help maintain the surfaces identity while you work, which means that you won't need to replace your work surface when it gets damaged. You no longer have to suffer from warping or distorting over an extended period.

It's been designed with an in-feed and out-feed table which makes it easier to work on, a tri-roller feeding system to help minimize snipe, a robber adjustment handle, and a dust hose connection point.
All of these features have been added to make this unit more convenient for the user, and it can help you maintain a cleaner and longer lasting workspace than other planets that are available on the market.
Who is this product for?
This product is perfect for anyone who is looking to upgrade their usual wood planer to one that has extra features to make operation smoother.
Many times you will find yourself in a position where your wood Planer won't attach properly to your workspace, so you may have some frustrations when it comes to selecting a new wood Planer.
check out my review on Best Hand Planer Tool
The Wen bench-top Planer is an excellent choice for people who are already familiar with how to use a wood planer and want some extra features to make the whole process run smoother.
What's included?
When you purchase this product, you will be receiving a few different accessories that are included; granite table, rubber adjustment handle, pre-drilled mounting holes, cast iron base. It also includes; foldable in-feed and out-feed table, side handles, fan assisted dust port and includes a 2-year manufacturers warranty.
Overview of features
The Wen 6550 has a granite table that helps repurpose rough wood to help give it a smoother finish. The Planer has a powerful 15-amp motor which is combined with a two blade cutting system which cuts up to 18,000 RPM at a rare of 26 per minute.
The plane boards are up to 12.5 inches wide and run 6 inches thick. The smooth granite table reduces the risk of warping and helps provide better precision and support when passing wood through the machine.

This combined with the heavy duty cast iron base helps provide you with a better work desk that doesn't wobble or get broken. To make transportation easier, the unit includes a two-sided mounted handle which can fold in and in-feed/out-feed tables.
Both of these handles are hollow, which helps create room for your fingers, making it slip-proof. The table can collapse, and then you can easily move the Wen table around your workshop.
How to use
The Wen benchtop table may be complicated for first-time users. So, it's highly recommended that you know what you're doing when you're operating this machinery. The benchtop Planer works like most other planners, but it has in-feed and out-feed tables with a tri-roller feeding system and a rubber adjustment handle.
check out my review on Best Benchtop Planer
To use the machine, adjust all settings and make sure that it's properly installed before you go and turn it on. Place your wood board on the work surface and secure it. You will then be able to adjust the settings to get the right smoothness and thickness for your project.
Alternatives
Unlike the Bosch pl1632 review the Wen can sometimes seem a little complicated to learn how to use for beginners, so we can suggest another model that has similar functions and features. The DeWalt DW735X has a powerful 15-amp motor which can run up to 20,000 RPM. It's perfect to use for larger cuts and wider boards.
It has a three knife cutting head which delivers 30% longer knives with a fast assisted chin injection. The chip injection vacuums off the cutter head as you use the machine, keeping your workspace clean. It has a two-speed gearbox that allows you to change the feed speed and change the cuts from 96-179 CPI.
Conclusion
The Wen 6550 can be a great choice for anyone who wants to expand or upgrade their current wood Planer. It's not recommended for beginners, but can still be used as long as you educate yourself on how to set it up and properly use it.
It will give you great results in making your wood boards thinner and have a smoother finish. It can take the toughest of wood slabs and turn them into beautifully smooth and furnished wood boards that you can use in your projects.
Check out Best Wood Planers