Best Benchtop Planer For Any Serious Woodworker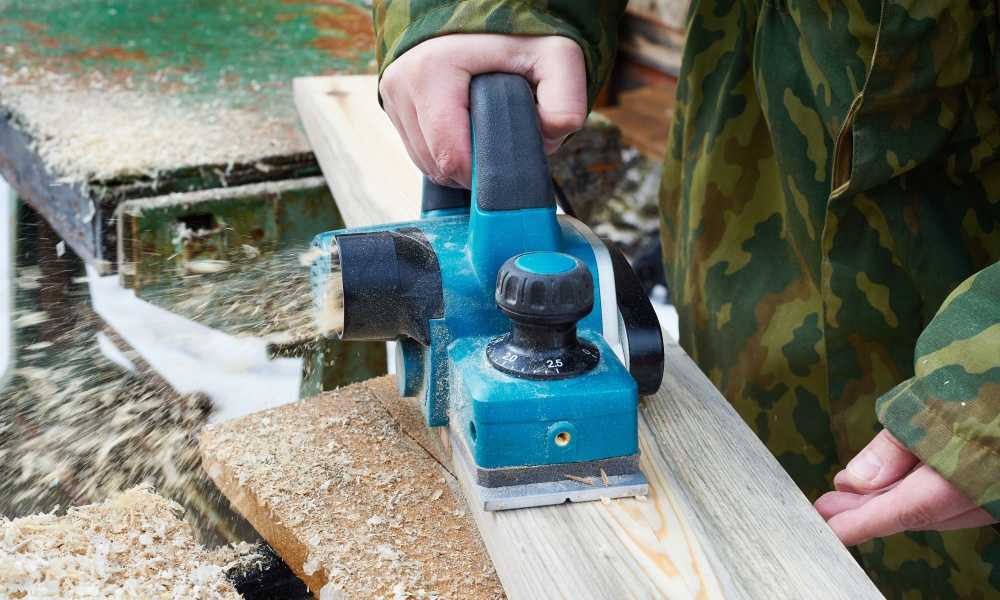 Regardless of whether woodworking is a hobby or a career, using a wood planer is something of a must. Using a planer on your projects is not only going to save you time, but it also has the ability to save you money.

After doing loads of research, we were able to put together a list of five solid options, followed up by what we think is the best benchtop planer. You can use our matrix to help you decide which planers to purchase the next time you're looking to add a tool to your woodworking arsenal.
Wonder what is the best wood planer?
Top 5 Best Benchtop Planers Comparison Chart
WEN 6550 Benchtop Thickness Planer, 12-1/2"
DEWALT Planer, Thickness Planer, 13-Inch, 3 Knife for Larger Cuts, Two Speed 20,000 RPM Motor, Corded (DW735)
Grizzly Industrial G0505 - 12-1/2" 2 HP Benchtop Planer
Cutech 40200H-CT 13" Spiral Cutterhead Planer - Professional Model
Porter-Cable 15 Amps 12 Inches Benchtop Planer (PC305TP)
WEN 6550 Benchtop Thickness Planer, 12-1/2"
DEWALT Planer, Thickness Planer, 13-Inch, 3 Knife for Larger Cuts, Two Speed 20,000 RPM Motor, Corded (DW735)
Grizzly Industrial G0505 - 12-1/2" 2 HP Benchtop Planer
Cutech 40200H-CT 13" Spiral Cutterhead Planer - Professional Model
Porter-Cable 15 Amps 12 Inches Benchtop Planer (PC305TP)
Best Benchtop Planer Reviews
1. WEN 6550 12.5 Inch 15-Amp Benchtop Planer

Starting things off strong, let's look at the WEN 6550 Benchtop Planer. WEN is a well-known brand in the woodworking market and has produced plenty of planers that provide woodworkers with the results they need for their personal and professional projects, and they do so at an affordable cost.
Review
The WEN 6550 was designed with a granite table support on the Planer, and while it does add weight to the entire unit, we found it to be very beneficial. The Planer is powered by an impressive 15A motor that's able to generate a variable speed of up to 18,800 CPM (cuts per minute) and has adjustable depth settings of a maximum 3/32 inch.
We noticed that the blades are easily changed and swapped out and that the unit as a whole performed the way it should for the cost and is more than suitable for small and compact workstations that are run by hobbyists and DIY'ers.

Unfortunately, we did notice that some of the parts such as the carrier and base plate were constructed poorly and not up to WEN's standard quality. There was also only one single roller that assisted with wood passing through the Planer which produced additional snipe.
WEN 6550 Benchtop Thickness Planer, 12-1/2"
Granite table provides a sturdy non-marring surface for wood to smoothly travel over
Plane boards up to 6 inches thick and 12.5 inches wide, adjust depth to plane off anywhere from 0 to 3/32 of an inch with each pass
15-amp motor generates 18,800 cuts per minute at a 26 feet per minute feed rate
Fan-assisted dust port removes sawdust from workpiece
The smooth granite table never warps and provides precise support to wood passing through the machine, combine that with the heavy duty cast iron base for a sturdy planer that does not walk or wobble during operation
2. DeWalt DW735 13-Inch Two Speed Thickness Planer

When determining our pick for the best benchtop Planer, it's no surprise that DeWalt has found its way onto the list.
For years now, the DeWalt name has been a leading contender in more than just woodworking power tools. Their reputation, decent price tag and positive consumer reviews made it a prime pick this time around, and we were thoroughly impressed with how it performs.
Review
Using the DeWalt DW735 was a breeze and a pleasure to use for our woodworking projects. The powerful 15-Amp motor made deep cuts in a variety of wood sheets tested on the Planer.
When combining the three-knife cutter-head with the two-speed gearbox, we had all of the power we needed to make successful cuts to a maximum depth of 1/8 inch and depth capacity of six inches.

The knives used on the DeWalt DW735 are disposable and have been known to last up to 30% longer than the standard Planer knives. Its portable, lightweight design produces minimal snipe and is built with projectPrecision technology that helps ensure you get the perfect cut every time.
3. Grizzly G0505 12-1/2 Inch Planer

You might be surprised to see the Grizzly Planer as one of our top picks, but it couldn't be left out. While the name isn't as well-known as other brands such as WEN and DeWalt, that doesn't mean that the quality isn't there. Positive reviews and word of mouth had us wanting to investigate this Planer more thoroughly, and we're glad we did.
Review
The Grizzly Thickness Planer was designed in a way to provide lightweight portability without skimping on durability. It comes with a 2HP motor, a variable speed of 10,000 RPM and a feed rate of 32 FPM. It has extra-large table extensions with thick knives that prove just how durable it is.

When using the Planer, we noticed that the knives remained sharp for an extended period of time which was a definite bonus.
The cutter-head only has two knives instead of the standard three, but we didn't find that it influenced the result, it just meant that we needed to replace the blades more frequently. Also, the thermal overload protection is a nice feature that keeps the unit from overheating.
4. Cutech 40200H-CT 13'' Spiral Cutterhead Planer

Moving forward, we look at the Cutech 40200H model. While this model is on the pricier side, it had strong customer reviews and performed as well as it should, but did it beat out the others on the list? Let's find out.
Review
While there isn't a lot of information on Cutech available, they've been in the planing industry for some time. We were pleasantly surprised when using this particular model and found that there was no snipe and that the finish received was beyond what we expected and better than some more well-known models that we'd used in the past.

The dust control on the Cutech Planer is definitely worth mentioning, and while the heavy-duty cast parts are on the more expensive side, they are designed to last and are available for purchase through the company's website.
5. Porter Cable 15-Amp 12-Inch Thicknesser

We've made it through our list and have come down to the final Planer that we're reviewing. Looking at the Porter Cable Thicknesser, it's yet another model that isn't as well-known as some of the others, but that doesn't mean it doesn't provide reliable results when tested. Let's find out what happened when we reviewed this Planer.
Review
The Porter Cable Planer comes with a mighty 15-Amp motor that cuts quickly and smoothly through all types of woods, including the hardwoods.
The benchtop Planer is quiet, so it shouldn't disrupt anything else that could be happening in your home or workplace, and the replaceable blades are double-sided. The 12-inch Planer is affordable, valuable and highly recommended for home workshops.

When using this Planer, we did notice an excess of snipe without proper support. However, it's easily managed when you're supporting the wood adequately as you're pushing it through the cutter-head.
Without the help, you are going to find excess snipe and create a mess of your workspace. This is certainly a concern for those who are looking for a new Planer.
Porter-Cable 15 Amps 12 Inches Benchtop Planer (PC305TP)
Powerful 15 Amp motor of the woodworking planer is made for superior stock removal
The thickness planer featuring two knife, quick change, solid steel cutter, head mounted on ball bearings, assures smooth operation and long life
High Carbon Steel, double edged, reversible knives of the wood planer is made for twice the cutting life
Patented cutter elevation on four precision ground columns for superior cut stability
Poly V Belt cutter head drive with rugged gearbox/chain and sprocket feed roller drive for maximum power transfer
FINAL VERDICT
Playing around with all of the planers on this list was a lot of fun, and it allowed us to determine our number one choice for the best benchtop Planer. For the most part, these models all performed very well, were in an acceptable price range, and were more than capable of providing cut depths to suit the needs of both woodworking hobbyists and professionals.

After comparing things such as snipe, motor power, sound, dust collection, affordability, consumer reviews and many other variables, we were able to pull our top choice from a familiar and reputable name.

While there are other planers on our list that are more affordable, we found that the DeWalt DW735 13-Inch Two Speed Thickness Planer provided the best results. The two-speed gearbox made it easy to switch between feeding speeds and the three-knife cutter-head extended the life of the knives drastically.

We do recognize that it's not in a price range that works for everyone, so if you're looking for an affordable alternative, we would recommend using the WEN 6550 12.5-Inch 15-Amp Benchtop Planer even Hand planer can do the job you can check Top rated hand planers. It might not have a two-speed gearbox but has lots of positive consumer reviews, a great price tag and a powerful motor, making it the best alternative to the DeWalt DW735.