How To Use An Orbital Sander Like A Pro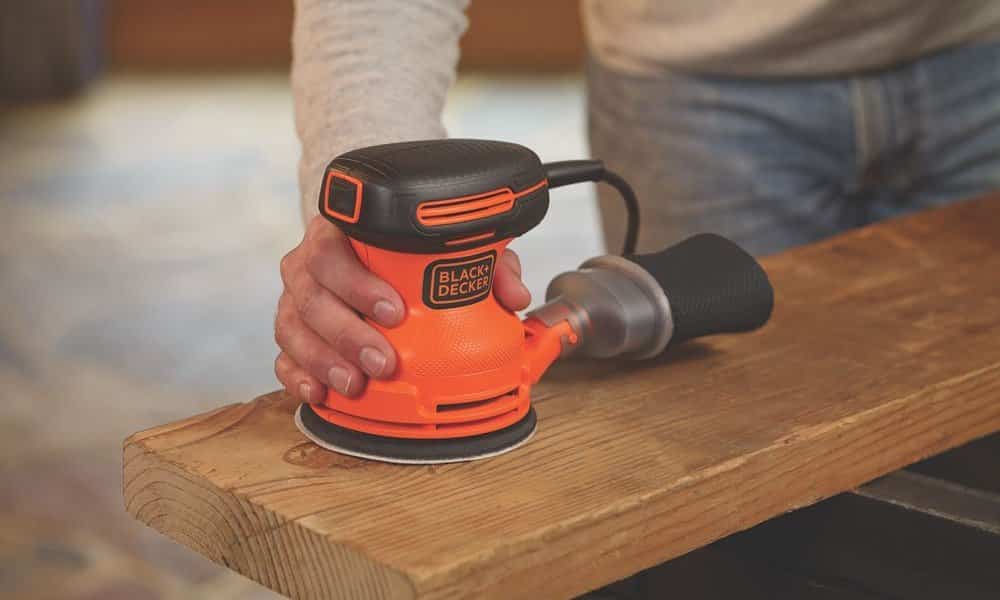 A random orbital sander is a staple tool found in every shop and garage, and if it isn't, it should be. It is a very versatile piece of machinery that allows you to get a scratch-free and smooth finish on your projects.
Whether you are working with wood, plastic, or metal, there are a variety of applications for this handy tool. Do you wish to know about all the best sanders? Click here.
There was once a time where you could only use a belt sander, oscillating sander, or disc sander, but the random orbital sander is the new generation of the old disc sander.
Made available to the market in 1982, the random orbital sander is still fairly new on the tool front. And much like its predecessors, there is a right and wrong way to use it.
What is a Random Orbital Sander?
A random orbital sander is a power sander that spins the sanding media in a circle while simultaneously moving the whole pad in an oval orbit around the middle of the z-axis on the sander.
The sander stops the sanding particles from retouching the same part of the item you are sanding, which results in a uniform finish. Do you wish to know about the best belt sander? Click here.
How to Use a Random Orbital Sander
When using a random orbital sander, you need to follow these steps to use it correctly:
Turn the sander on and let it spin until it is up to speed before you make contact with the material you are sanding
Always sand with the grain of the material
Do not press the sander down. Allow it to operate under light pressure
Never tip the sander sideways to get to low spots
Don't allow more than a third of the sanding pad to lift from the surface you are sanding
Remove the sander from the material before you turn it off
A random orbital sander is a very efficient tool. If you tip it on its side, it will create a low spot in your product's finish. If this happens, it will be hard to recover your product.
Due to this, it is also important to keep a minimum of two-thirds of your sanding pad on your product at all times, especially when you are sanding to the edge of the item. If you do not do this, you will end up with a rounded over effect along the edges.

Random orbital sanders are designed to operate with very little pressure. By pressing down on the sander, the RPM is slowed down which results in the sander being less efficient. It will also shorten the lifespan of the motor. The sander should only have its own weight and your arm's weight as you use it.

If you find that you are having trouble seeing how far you are with the sanding process, there is an easy trick which makes it much simpler to see where you have already sanded and where you still need to sand.
Use a pencil to mark a sine wave line on your product. Keep adding sine wave marks and sanding them until the whole surface is flat and even, and all the pencil marks are gone. Don't forget to have a look at how to sand wood floors article.
Random Orbital Sander Dust Collecting
Most of the random orbital sanders that you get today have holes on the sanding media, which allow for dust to be collected by pulling the particles off the working product, storing it in the sander itself.
Some sanders come with a bag attached at the back for dust collection, while others have a filter. The best option is a sander that has a hose which leads to an active dust collecting system.
Tips for Mastering Your Orbital Sander
To begin mastering your orbital sander, it is important to understand what can eventually go wrong while it is in use.
First, the sander wiggles in a tight orbital pattern as it rotates, and this movement can cause scratches that go in all different directions and can overlap and intersect. Also, if you sand in the wrong direction, you may prevent the sander from working as it should.
So, to help you, we have a list of a few helpful tips to help you master and hone your skills. Below, we will go more in-depth with what we discussed when teaching you how to use your orbital sander.
Always Go Slow
While you may be tempted to go quickly thinking you are in a hurry, this should really be avoided. The slower you go, the more random the scratches will be. You should train yourself to move approximately one inch per second. You can use a timer to practice this skill.
Always Go Light
It is common for someone to press down on the sander as they work. However, this is something else you should avoid doing. The weight of the sander itself, as well as your arm and hand on the sander with enough pressure, can prove to be counterproductive, and the results can be unsightly.
Get It Ready Before You Start
You can start the sander before putting it on the wood but you must be careful not to create a scratch or groove when first making contact. Some people prefer to set it on the wood and then turn it on, which is also an acceptable approach but be sure to have a hold of it so it doesn't spin away leaving scratches when turned on. Either way, be prepared and have a plan for your effort and moving to new areas.
Keep It Low
So as not to tip the sander on a narrow surface you are working on, make sure to hold it around its neck. If you tip the sander too low, you will find that it can result in gouges and scratches.
Finish By Hand
Finally, using a hand sander after orbital sanding is one of the best ways to ensure that your work isn't marred with any stray marks. When doing this, be sure to use the same final grit that you were using with your sander.
Choosing an Orbital Sander for Your Workshop
One of your biggest questions now is probably what the best orbital sander is for woodworking. This really depends on what your short term and long term needs are. Smaller sanders are good for those who only pull out their sanders occasionally for smaller projects. However, heavy use woodworkers will need something with many more features, including variable speed, an ergonomic design, and much more.
So, what else should you look for?
Power Source
You can find corded, cordless, and battery-operated sanders. The power source is what is going to determine the sander's motor power as well as its overall weight. A battery-operated sander is going to be much less powerful and heavier than other types because of the battery.
Motor Power and Speed
These sanders typically feature a motor with 2-5 amps of input power. However, it is the output power you should be looking at because that is the actual power that you need to operate the sanding pad.
Dust Collection
Many of the more modern sanders come equipped with some kind of dust collection feature. Some have a dust bag that is used with or without a shop vacuum attachment. The sawdust is collected through the holes of a baseplate as you work.
Speed Control
Variable speed control is typically controlled by either a trigger switch or a speed control dial. This is a great feature to look for. Variable speed control allows you to use different speeds depending on the tasks you are trying to complete.
FINAL VERDICT
A random orbital sander can easily become your favorite tool – especially if you use it correctly and to its full potential. When you have finished using your sander, remember to leave it on the product's surface until the sander has been switched off and that the machine has stopped spinning.
Once it is off, you need to ensure that you maintain it properly by cleaning it before storing it away. Using a random orbital sander helps create a perfect wood, plastic, or metal-working product that you can be proud of.
There is no substitute for creating something out of nothing by using your own hands. Just remember to use your random orbital sander correctly. Do you want to know more about orbital sanders?Click here.