Oscillating Tool Vs. Rotary Tool: Which One To Buy?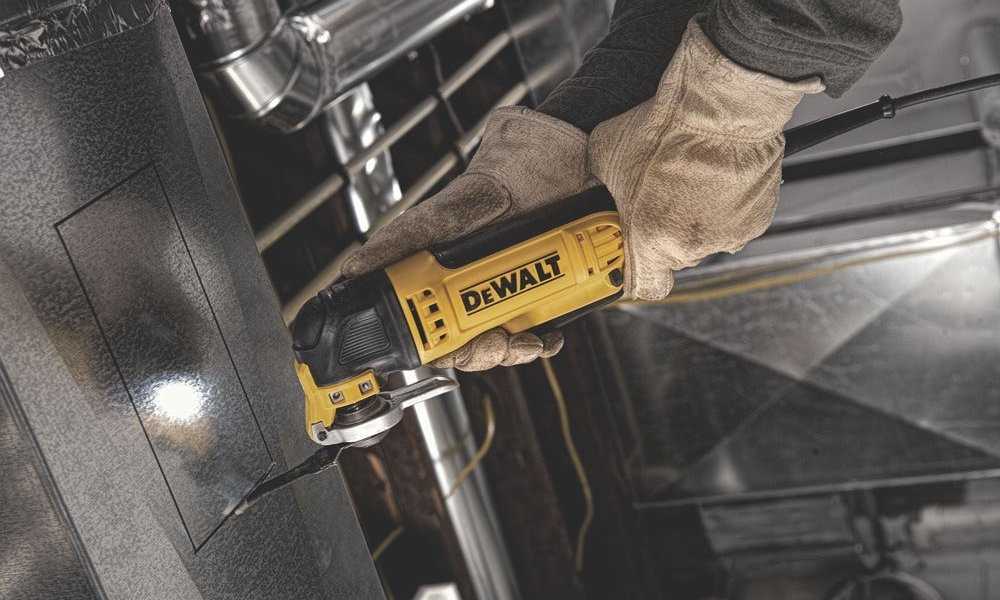 When you first begin building your own toolkit, one of the most difficult decisions you'll be faced with is choosing between an oscillating tool vs. rotary tool.
While it might seem overwhelming at first, especially if you don't have prior experience using either tool, the differences between the two are quite simple to understand. What makes oscillating and rotary tools so interesting is that they essentially do the exact same things, just in a strikingly different way. There are many corded oscillating tools, but top cordless oscillating tools reviews are also available.
Before you invest your hard-earned money in tools that you may or may not need, it's best to learn the ins and outs of what they do and how they do it. Below are some interesting comparisons between oscillating and rotary tools.
What is a Rotary Tool?
There are a wide variety of functions that a rotary tool can do including grinding, sanding and cutting tiles and other materials. At the tip of the tool, there will be a place for an attachment or accessory, such as a grinding bit or a sanding bit, and this piece will spin incredibly quickly.
Rotary tools are known for being incredibly precise although you'll be responsible for holding it in your hands, meaning you will determine its accuracy.

Some of the main benefits of a rotary tool include:
Wide Array of Tasks: It's easy to understand that a rotary tool is far more advanced than an oscillating tool simply because it can tackle many more projects than its counterpart. Aside from the tasks that the two tools share, a rotary tool can also clean, polish, rout and carve a wide variety of different materials.
Inexpensive Accessories: If there's one thing that can be said about an oscillating tool it's that its accessories/attachments are incredibly expensive, especially if you're trying to perform a special function. With a rotary tool, however, you have the option to choose from dozens of different attachments that are far more affordable.
Ability to Etch: Although this might not be a task that you'll need to perform on a daily basis, a rotary tool is far more beneficial than an oscillating tool because it gives you the opportunity to do fine precision work such as etching. No matter whether you want to custom-engrave a present for a friend or family member or want to mark ownership on a hard material, the options are endless. All you'll need to do is invest in a diamond tip etching tool and you'll be able to penetrate any surface.
Ready to get a Rotary Tool? If you don't feel like doing the research, we recommend the Dremel 4000. It's a highly reviewed tool with all the accessories you will need for most projects and backed by a solid brand for rotary tools.
Dremel 4000-6/50 High Performance Rotary Tool Kit with Flex Shaft- 6 Attachments & 50 Accessories- Grinder, Mini Sander, Polisher, Engraver- Perfect for Routing, Cutting, Wood Carving
VERSATILE ROTARY TOOL KIT: Includes 4000 corded rotary tool, 6 attachments, 50 high-quality Dremel accessories, deluxe carrying case, and accessory case.
HIGH PERFORMANCE MOTOR – Provides maximum power and performance at all speeds.
VARIABLE SPEED: (5,000 – 35,000 RPM) and electronic feedback circuitry for consistent performance even in the most demanding applications.
INNOVATED AIR FLOW SYSTEM - Ventilation mechanism helps prevent heat build-up for smoother, cooler, and quieter operation
SLIM & ERGONOMIC BODY – 360-degree grip zone for added comfort & grip during extended use.
What is an Oscillating Tool?
This device can be incredibly useful for a wide variety of purposes. The first thing to remember is that when it comes to large-scale industrial projects, an oscillating tool might be far more advantageous than a rotary tool simply because it's designed to make larger projects much simpler and faster to complete.

Oscillating tools are designed to move back and forth rapidly, unlike a rotary tool which spins very quickly. Despite the differences in design, the two tools can handle most of the same tasks. However, an oscillating tool might be preferable for grinding, sanding and cutting larger pieces of material.

Some of the main benefits of an oscillating tool include:
Less Dust: One of the largest advantages to using an oscillating tool for big projects is that you will see a substantial reduction in the production of dust. This is because the attachments are bigger, meaning it's easier for them to work through materials in comparison to the attachments on a rotary tool. The faster the accessory has to move, the more dust it's going to produce and this is especially true when you're working with wood.
Accurate Cuts: As an oscillating tool is substantially larger than a rotary tool, you can guarantee that it will give you more accurate cuts than if you were to rely on the smaller model. Although a rotary tool is great for getting into tight spaces and delicate work, an oscillating tool is more reliable if you're aiming for accurate precision.
User-Friendly: Due to its size and how simple it is to make straight cuts and how time-efficient it would be to sand large materials, an oscillating tool is substantially more beneficial for first-time users or beginners to the carpentry industry. Remember, these tools are specifically designed to tackle large projects, which makes them ideal for beginners.
Ready to get an Oscillating Tool? Our top recommendation is the Dremel Multi-Max. We've reviewed a number of Oscillating Tools and this one bubbles to the top of our list if your budget allows for it. There are many cordless oscillating tools, but corded oscillating tools reviews are also available.
Where Can I Find Oscillating and Rotary Tools?
Luckily, finding either tool is as simple as taking a trip to your local hardware store or doing some online research. You can see our jump over to this post for reviews and comparison of Oscillating tools. We haven't put together a Rotary tool comparison yet but we'll be working on that soon. In the meantime, here's a link to get you started. Hopefully the above information has equipped you for your hunt for an oscillating or rotary tool.
Still can't decide which to buy? Check out this conversation on specific use cases for each tool and why you might want both. With plenty of functions to use to your advantage, these tools will no doubt be useful in establishing a versatile woodworking kit. You have read the difference between oscillating tools and rotatory tools, other different top oscillating tools are too available in the market. If you want to have experience of cordless oscillating tool, check VonHaus multi-tool review.