Woodwork Routers for Sale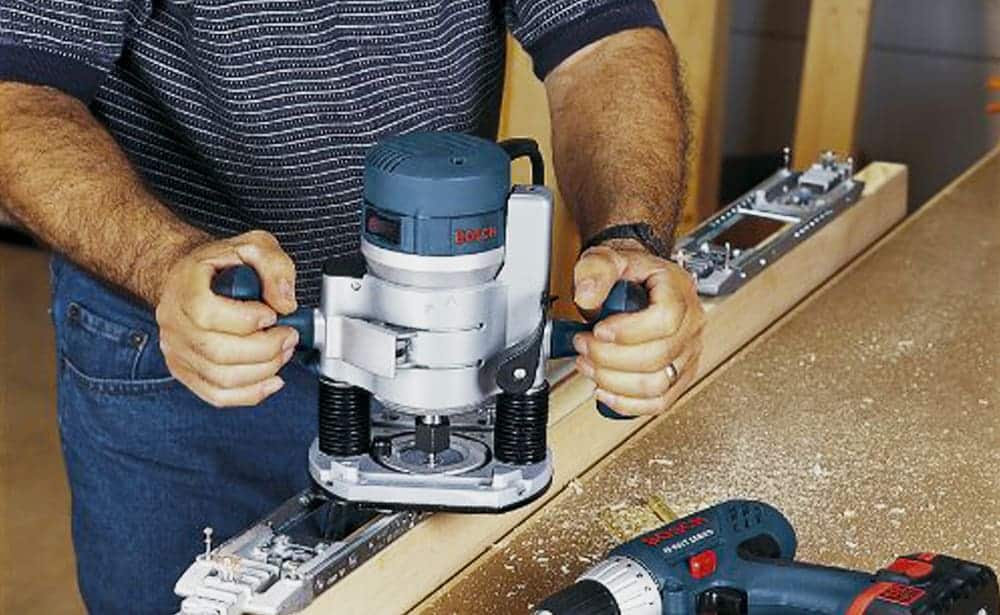 The ability to work with wood whether as a profession, a hobby or in home building and reno work is satisfying. No matter what job or project you are working on, it helps to have quality tools that are designed to work on the specific type of job you want to accomplish. Sometimes it's difficult to know what the right tool is to choose when there are so many options on the market. When you start to research a particular product that you might need, you have to discern what information and reviews are legitimate so you can make an informed purchase. When you look at woodwork routers for sale today there are a mind numbing amount of options and details to sort through.
A company is always going to highlight the strong points of a product, they can not sell a lot of their product if they are pointing out the faults but that you need to weed out the good and the bad comments. You do not want to base your decision on what router to buy simply because it is the most expensive or because the producing company says its awesome. You will need to do your research, read legitimate reviews and then see what works best for you and the projects you want to work on. There are lots of woodworking routers for sale but picking what is best for you needs to be a smart choice, not a quick choice.
The Basics of a Woodworking Router
A woodworking router is something every woodworker should have if they are serious about working on projects that involve cabinets and drawers. Whether woodworking is your profession or simply something you enjoy doing in your spare time, a router has many things it can bring to the world of woodworking. While a wood router can create fancy edges on a project, it can also cut perfect dadoes, rabbets and create lovely wood patterns. The actual job is to "rout" out or hollow out an area of the material. It is a shaping process that works to create clean-finished edges and shapes. They are often used in cabinetry design and creations. It's also a great plunging tool and is versatile enough to be turned upside down and used in a router table.
Like most woodworking tools, routers were originally used in a manual fashion but now they are plugged in and ready to go with much more efficiency. When the router was a hand tool, it had a wide base and a thin blade that projected beyond this base plate. This basic design has moved to an electrically powered form that has a power-driven spindle. This spindle turns quickly allowing you to work with the wood and create your designs.
Wood routers come in various styles, with the two standard ones being called a plunge and fixed. A plunge router is one where the sole of the base is put on the front of the work with the bit above it. The motor is started, and the cutter comes down. The fixed router means that the bit height is set before it is turned on. Then there are more niche routers like a CNC router which would be used for special types of projects. It's best to know what type of router you want before you start your research into the routers that are for sale. Once you start looking you will discover that most routers have variable speed controls and plunge bases that will lock into place if you want to use it as a fixed base router. Some have soft start features which are helpful as it allows a slow start that builds up the routers speed gradually. This is really helpful if you have a router that has a large cutter.
Choosing from the many routers for sale means assessing what you are going to use it for. There are many things:
Picture frames
Cabinets
Furniture
Drawers, boxes
Edges
Doors
Alongside these practical applications, maybe you want to get really creative and use a router to make your woodwork more stylized. You can do designs on flat pieces of wood simply by clamping the wood down, tracing the design you want and then using to router to recreate it. Routers can help create replicas of styled furniture, beautify cabinetry, do stylish edging and scrollwork. They can also be used for precision cutting.
Wood routers are really versatile tools that can make a significant impact on your woodworking projects. With some training and instruction, you can start to use them with great results. Make sure you understand how a router works and how to use them best for whatever project you are doing as mistakes can cost you time and money. When you search for a router that is for sale, make sure it comes with a full explanation of its specifications and operational workings. Once you have what you want then to make sure to practice for a while before taking on a major project especially if you are new to using a router. Once you become proficient at using it, then your projects will be enjoyable to complete, and you will have less downtime due to inexperience.
What Woodwork Routers are for Sale?
There are numerous woodwork routers for sale in today's market. Once you have done your research narrowing down what you are looking for then you can start to sift through the ones on sale. With so many good products on the market, here are some woodwork routers that are listed for sale and will offer you some high quality work should you decide to buy one of them.
DeWalt always has some of the best tools for sale in the woodworking market. This particular router kit is usable in some of the toughest projects. It has a 1.25HP motor and variable speed control allowing you to choose the best bit speed for whatever project you are working on. This router also offers a soft start motor with full-time electronic feedback so you will have a consistent motor speed through your whole cut. It has dual LED's and a see-through sub-base so you can always have the most visibility possible throughout your work. Its adjustment ring allows you to control the bit depth changes within 1/65" (this is for the fixed base alone). Its large low-pressure spindle lock button makes changing the bit simple and only requires one wrench.
This router has spring-loaded release tabs to make base removal quick and easy and the motor can be switched with speed to move between fixed and plunge bases. It allows up to 1.5" depth travel when used on the standard base and up to 2" with the plunge base. Its motor housing is aluminum and its base construction will give you long term toughness. The routers extended sub-base offers a lot of work surface contact offering better user control. Overall, it's a great product whose versatility will allow you to tackle almost any woodworking project.
Sale
DEWALT Router Fixed/Plunge Base Kit, Variable Speed, 1.25-HP Max Torque (DWP611PK)
Durable 1.25HP motor of DEWALT router delivers the power to meet the toughest applications
Variable speed control feature of DEWALT plunge router enables bit speed to be optimized for changing applications
Soft-starting motor features full-time electronic feedback that maintains motor speed through the cut
Dual LED's and clear sub-base ensure maximum visibility in operation
Adjustment ring enables controlled bit depth changes to within 1/64-inch (fixed base only)
This Bosch router is another solid product offering from this quality company. This routing kit is versatile and can be used on a wide range of projects that include bit plunging, edge shaping, slot cutting, trimming laminate, cutting dovetail and much more. It has a lot of features that will enhance your woodworking projects through the ease of use and flexibility.
This particular router runs with a 12 Amp motor, 2.25HP and 8000-25000RPM. It has a variable speed dial allowing you to set the speed you need for a particular project. offers a soft start and is great at maintaining a constant speed while working as it has built-in constant response circuitry. This consistency means you will not only have cleaner cuts but much more accurate results as well. Its quick clamp system works on both bases and includes and fixed base system that allows you to change the height above the router table. Its precision centering helps to keep the routers bit on the specified cutline when you are using jigs, templets, dovetail fixtures and other devices to guide your work.
The fixed base has a threaded hole for mounting the tool to a route​​r table that has Bosch 4-hole and 3-hole pattern. 2" subbase opening offer good visibility. This product is durable with aluminum construction and has contoured wooden handles on the fixed base along with soft grip handles on the plunge base for maximum comfort. These hardwood handles mean you have great control during your woodworking. The power switch is dust-sealed meaning you will get a longer life out of it. This Bosch router is accurate, easy to use and will help you create a quality wood product.
Sale
BOSCH 1617EVSPK Wood 12 Amp Router Tool Combo Kit - 2.25 Horsepower Plunge Router & Fixed Base with a Variable Speed
VERSATILE: kit can be used for a broad range of applications, including precise bit plunging, edge forming, slot cutting, laminate trimming and dovetail cutting, making it one of the most widely used routers for wood working
DURABILITY: aluminum construction makes this one of our most durable wood routers yet with wooden handles on a fixed base and a soft grip handle on a plunge base
EASE OF USE: rounded hardwood handles maximize user control; microfine bit-depth adjustment
CONVENIENT: with the built-in constant response circuitry, our 1617EVSPK wood router will maintain a constant speed throughout the cut, so you get cleaner, more accurate results
12 AMP MOTOR AND ADJUSTABLE SPEED DIAL: user can set the optimal speed (8,000-25,000 RPM) for more or less power
Makita is a name that is well known for its quality in the tool world. The features on this reasonable price wood router offer great quality at a good price. This 1 ¼ HP allows the user to enjoy its versatility, strong woodworking performance and precision in a small package. Its variable speed ranging from 10000-30000 RPM is a must as it allows the user to choose the proper speed for their project. It offers a rack and pinion fine depth adjustment system letting you have precise settings with simply designed depth scales to help with the precision of your work. It is comfortable to use with its slim and ergonomically designed body that only weighs 3.9lbs.
Depth adjustments are easy with this router as is the base removal and installation due to the quick release cam lock system. Its electronic speed control lets the user keep a constant speed that means the cuts will be clean. It also has a smooth start feature to help ease into the beginning of a project and lessening the torque as it begins. The fixed base works with most industry-standard template guides and its high visibility helps with handling and performance. It is easy to remove the bases and switch them out for another in a quick amount of time. The heavy-duty double insulated aluminum motor housing is designed to be durable and the shaft locks work for simple bit changes. The router flat-top design is also helpful when it comes to changing bits using ½" shank router bits. You can not go wrong if you choose to go with the Makita router.
Makita RT0701CX7 1-1/4 HP* Compact Router Kit
Variable speed control dial (10,000 - 30,000 RPM) enables user to match the speed to the application
Smooth rack-and-pinion fine depth adjustment system for more precise settings
Slim and ergonomically designed body for increased comfort and control
Quick release cam lock system for easy depth adjustments and base removal/installation
Electronic speed control maintains constant speed under load. Fits compact routers models RT0700C and RT0701C
This DeWalt wood router is a powerful tool that can rout almost any wood product, including hardwood. Its 2 ¼ HP, 12 Amp electronic variable speed motor drives the router. The router itself uses fixed, plunge D-handle bases with precise depth adjustments and a simplified motor pack removal for bit and base switches. It has variable speed with full feedback control allowing for a consistent speed during work that goes from anywhere from 8000-24000 RPM. Its soft-start allows for reduced torque when it starts up allowing for better user control.
The D-handle has a trigger switch with a lock-on feature. The router allows precise depth adjustments in 1/64" increments and can be adjusted vertically for a consistent switch/cordset location. The adjustable tool-free steel motor cam lock helps to make depth adjustment and base changes a breeze using quick-release motor latches. The "through the column" dust collection takes in 95% of the dust and allows for great visibility. The routers machined brass bushings and steel guide rods offer a smooth precise plunge stroke. Another good choice in the router market.
DEWALT Router, Fixed/Plunge Base Kit, 12-Amp, 2-1/4-HP (DW618B3)
2-1/4 HP (maximum motor HP), 12.0 amp electronic variable speed motor of DEWALT router provides the power to rout smoothly through the toughest hardwoods
DEWALT plunge router features electronic variable speed with full feedback control for constant speed under load from 8,000-24,000 rpm and soft start to reduce start-up torque for enhanced control
D-handle incorporates trigger switch with lock-on feature
Micro-fine depth adjustment ring provides precise depth adjustments in 1/64-inch increments and adjusts vertically for a constant switch/cordset location
Adjustable, tool-free steel motor cam lock makes depth adjustment and base changes quick and solid-locking
Final Thoughts
No matter which woodworking router you choose to purchase, it has to be one that will meet not only your woodworking needs but one that you enjoy using. It should be comfortable and easy to use especially if you are new to using a router. Your woodworking should be enjoyable, not a struggle. Do your reading and look at trustworthy reviews before you purchase so you buy something that really does meet your needs. There are lots of great routers for sale and there is very little they can not accomplish. Whatever woodworking router you settle on will be a solid addition to your tools.