Best CNC Router That Offers Speed And Precision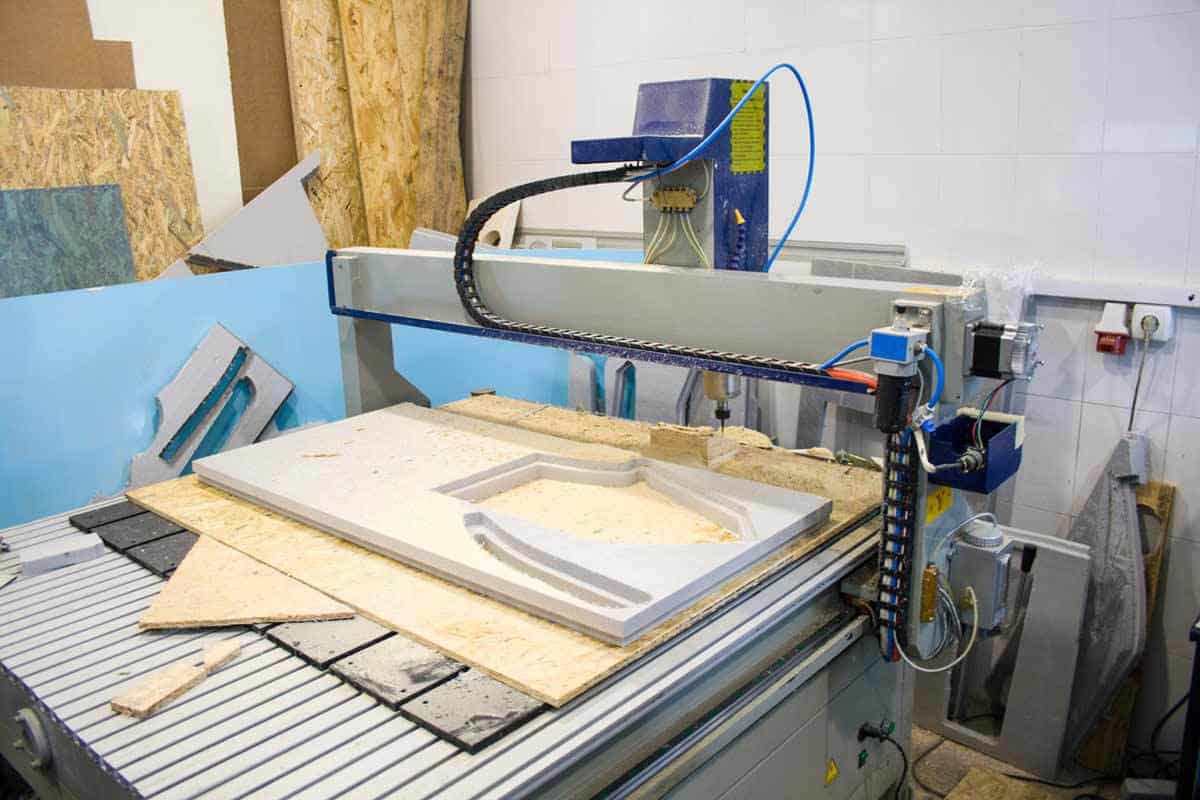 Computer Numerical Control (CNC) routers are a big ticket item for companies and wood hobbyists alike. These machines are worth every penny for the sheer amount of designing and cutting they can do for you. The bigger the heavy-duty CNC router is, the bigger the price tag. What is the best wood router? really interesting to find out!
Luckily, the router market also offers desktop CNC machining routers that save you space and save you money. The fantastic newer and easy-to-use desktop routers will make your life easier and your projects go smoother. These machines can cut through most materials including aluminum, composites, glass, plastic, steel, and, of course, wood. Oh man, I want to add one of these to my shop!
What makes these power tools different from other woodcutters and high-powered machines? How do these specific routers work? And how do you pick the best CNC router for your wood projects?
We hope this article will answer your questions about shopping for the best CNC router for woodworking. If not, leave a note in the comments section and we'll do our best to help.
Comparison Chart
BobsCNC E4 CNC Router Engraver Kit with the Router Included (610 mm x 610 mm cutting area and 85mm depth of travel)
Genmitsu CNC 3018-PRO Router Kit GRBL Control 3 Axis Plastic Acrylic PCB PVC Wood Carving Milling Engraving Machine, XYZ Working Area 300x180x45mm
Upgrade Version CNC 3018 Pro GRBL Control DIY Mini CNC Machine, 3 Axis Pcb Milling Machine, Wood Router Engraver with Offline Controller, with ER11 and 5mm Extension Rod
SainSmart Genmitsu CNC Router Machine 3018-MX3, with Mach3 Control and Safety-Driven Design
Upgrade Version CNC 3018 Pro GRBL Control DIY Mini CNC Machine, 3 Axis Pcb Milling Machine, Wood Router Engraver with Offline Controller, with ER11 and 5mm Extension Rod
Best CNC Router for Woodworking
BobsCNC E4 CNC Router Engraver Kit
Our first entry comes to form BobsCNC and is the latest model in their high-quality wood routing line. The E4 takes everything great about the E3 and builds upon that to give us one of the best CNC routers on the market today.
Product Highlights
This model is built tough and is great for any shop that needs equipment that can handle heavy-duty projects.
This model uses the features that it has been designed with to not only deliver superior work but also to maintain that performance for as long as you need it. Some of these features that help this fantastic CNC Router do that are:
Cut frame that uses a rigid laser
Enhanced easily adjustable rail system (SG20U)
Fitted with a GT2 belt drive on both X & Y axis
Designed with an easy control system suitable for any level of experience
Crafted in durable and aesthetically pleasing Baltic birch
Enlarged workspace
Multiple measurement systems (in. or mm)
Compatible with multiple materials
Improved torque (75 in./oz.)
The Good
Large projects need a machine that will not only help improve your overall time management but aid in delivering a high-quality result.
With the E4, you get that and so much more, and it all starts with how this wood router was built. Constructed of durable wood and built to maximize its effectiveness, the E4 is an excellent choice for any woodshop.
The durability of the build is just one piece of the puzzle, though. In addition to a design that is spectacular, the mechanisms used to drive this router give you optimal performance, especially in the torque department.
The Bad
Though this wood router may save you time once assembled, it will need a little time upfront even to get started. That is because unlike other models, this router does not come fully assembled.
Also, the assembly itself is a little time consuming, and that means a little more energy needs to be exerted. Some who have purchased it feel that, despite the durability of the birchwood, this model could use a little jazzing up in the looks department.
In the end, this router offers so much to the woodworker that even having to give up a little time in the beginning, it will still be a great investment.
Pros
Durable frame and tabletop
Controls are easy to use
Designed for wood specifically
Great torque-speed (75 in./oz.)
Constructed to have a smaller footprint than others
Cons
Not fully assembled when purchased
Time it takes to assemble
Not as cool looking as other options
Genmitsu CNC 3018-Pro Router Kit
Our next router comes from Genmitsu and is a piece designed to be a perfect router for the beginning woodworker. Constructed to be ready straight from the box and easy to use the CNC 3018-Pro is chock full of features that simply make this one of the best choices.
Product Highlights
When you are a novice woodworker, you need a machine that will help build your confidence while delivering features that make the learning process a little easier. That is why Genmitsu created this piece with the features you see below:
Crafted for easy assemble and better accuracy
Increased stability from an enhanced base height (4cm)
Components that do not need to be positioned
A unit that is fully integrated from mainboard to hardware
Compatible with multiple materials
Enabled with open-source software
The Good
This is a great learning router for many reasons. Among them is that there are so many tutorials online, that any novice will quickly be able to conquer this machine. This unit is ready to go; the plug-and-play option that not only is easy to use but is durable too.
Much like many things, when you first look at it, you may not think that it is sturdy or easy to use. But that won't last long as you begin to experiment and use this wood router from Genmitsu.
The Bad
It may come almost fully assembled, but the pieces that are left to set up have been known to be challenging to complete. The manual is difficult to read, and therefore, we highly suggest you check out one of the vast numbers of tutorials that are available.
It seems that the bulk of the issues with this model have to do with the software and manual. The software is good but not nearly as intuitive as some of its competitors.
There is one overall design flaw that we need to mention, and that is the lack of a limit switch which could lead to some errors and frustrations.
Though there are a few drawbacks, when you look at this router overall, it is a great choice, especially if you are a beginner. Taking a little extra time in the beginning to understand the limits of this machine, means that you will be able to take advantage of its vast wealth of amazing features to produce some beautiful projects.
Pros
Comes ready to go straight from the box (almost)
Constructed of high-quality, durable materials
Wide range of tutorials available
Cons
Difficult to finish the initial setup
Software not as intuitive as other models
No limit switch built-in to the design
MYSWEETY CNC 3018 Pro Wood Router
If it ain't broke, don't fix it! That is something we have all heard before, but just because you don't fix it doesn't mean you can't improve it, right? That is what MYSWEETY has done with your next CNC router. Their willingness to upgrade their already-great router has heralded a top-notch choice for any woodshop.
Product Highlights
Taking the time to dive into the details of what could be improved from the previous model, MYSWEETY has really added features that will enhance your projects. The features that they focused on bringing you improvements in are:
Enlarged work surface
Efficient control with GRBL software
Streamlined functionality with an offline controller
Compatible with multiple materials
Constructed of lightweight, durable materials
The Good
When you look at all the fantastic things about this model, one thing stands out above the rest. The ability to control the machine without a computer.
That means that you can get started even if you do not have a compatible computer or need to find one that can handle the workload. The other thing that really is great about this model is that it is versatile.
There are so many possibilities! When you look at the extensive material selections you will be able to choose from, which means you have more projects available to you.
The Bad
Sadly, the offline controller can't be used with the online mode, and that may be a little bit of an issue for some woodworkers out there. The only other major issue is that like many of our models, this router is not a great choice if you or your shop intend to work with hard materials. This machine may struggle with cutting them and lead to unwanted problems.
Overall, this is a great choice if you want an option where you do not need access to a computer to get your work started. The small compact design coupled with high-quality performance makes this an excellent choice for a small shop looking to add a router to their equipment.
Pros
Offline controller included
Doesn't need a computer to operate
Compatible with multiple materials
Cons
Can't use both computer and offline controller together
Not good with hard materials
SainSmart Genmitsu 3018-MX3
If you want a good high-quality, easy-to-use CNC router, our next entry from SainSmart may be a great option or you.
Product Highlights
Whether you are a novice or a seasoned pro, you will always want to find an intuitive smooth-running machine when it comes to your woodworking projects. Built for efficiency and performance as well, this router is fitted with the following features:
Customizable expert software controlled (Mach3)
Built-in limit switches for more accurate cutting
Ability to safely watch the process through the baffle
Enlarged work area for bigger projects
Programmable too presets for better functionality
The Good
SainSmart has delivered a machine that is designed with a lot of exceptional abilities that led to benefits that rival its competitors. This easy-to-assemble router gives a versatility that will only serve to enhance your abilities.
Plus, the engineers that designed this machine also considered space and built a router with an enlarged workspace which will allow you to tackle larger projects with ease. All of that and reasonable price tag—that is amazing!
The Bad
Though the software used to run this router is super easy to use, there have been quite a few user reviews that complain about problems during the download process. The only other issue that seems to arise is the Z-axis and the need for it to be oiled to obtain smooth movements.
If you can handle the few issues and take a look at what you get for such a reasonable price, we are sure you will see that this is a well-made option that offers superior functionality and efficiency.
Pros
Easy to assemble right out of the box
Compatible with multiple materials
Price versus value is a bargain
Large workspace for more project options
Software is easy to use
Cons
Some issues with software download
Needs oil on the Z-axis to run smoothly
NUXIUS CNC 3018 Pro Wood Router
Our last entry comes not only with a low price but of a lot of great features that will help elevate your woodworking abilities. The NUXIUS CNC Pro Wood Router is a better version of the previous model and offers a lot of great new abilities.
Product Highlights
Taking their cue from many of their competitors, NUXIUS knew that a few upgrades were necessary to make this model even better. So, the design team and engineers set about to try to conquer some of the previous model's flaws and to do that they built the CNC 3018 Pro with the following features:
Fitted with a 2500mW laser head
Compatible with multiple Windows OS
Pre-assembled components
Ability to work with multiple materials
Offline and online modes
Accessories included: DIY router kit, plate clamp, carving knives, extension rod, CD manual and laser head
Enhanced base height for better stability
The Good
Sometimes you have to worry about the budget, and that means that occasionally you must give up certain things to get close to what you want, but not with this router.
The high level of performance is more than the price tag insinuates you will get. You not only get a budget-friendly option but one that offers you better stability. This leads to better precision plus a versatility that will have you able to work with many different materials.
The Bad
Every machine has its limitations, and this model for NUXIUS is no different. For instance, regarding materials you can cut, you have a pretty wide field, but that field stops when you get to hard metals and other materials.
It is also not compatible with Apple OS, and with the small cutting workspace, you will not be able to tackle any large projects.
Though there are some limitations to this model, if you are only working on smaller projects and need a router option that won't break the bank, then this one may be just the right choice for you
Pros
Value versus price is outstanding
Most of the main parts come assembled
Versatility of the machine
Can be used without a computer
Enhanced stability
Accessories included in the box
Cons
Not good with hard metals
Not able to use both online and offline at the same time
Can't handle heavy-duty large-scale projects
Not compatible with Apple products
How Do CNC Routers Work?
CNC routers are intriguing machines that run on advanced technology that makes your patterns smoother and cuts practically perfect when being recreated.
In order to run a CNC router, you need a computer, software, and general computer skills to run the software. These routers run off a Computer Assisted Design (CAD) program, which is a design software program.
CAD software was created for designers and engineers to assist them in creating or analyzing their own designs. They can be used for any type of designing, from designing a house to designing clothes.
This software, then, showcases your designs in either 2D or 3D, so you can see every detail.
Almost all desktop CNC routers include a CAD program software that you can install and run from any newer computer or laptop. The CAD software gives you the amazing ability to upload (or even the ability to draw if you're using advanced CAD drawing software) the design or cut you want the router to perform.
It takes the exact angles you give it and turns the image and information into vectors as well as a command for the router to manipulate and use. Most CAD software for CNC routers use 2D imaging so you can view the dimensions and information needed to recreate the pattern onto the wood.
You can choose from different tool paths your software offers and you can choose what bits you need for your specific pattern or cut. You can save your template to use later as needed as an added bonus.
They cut right down to the smallest detail and the smallest measurement with super accuracy. This leaves you with less cutting errors, less re-dos with your projects, and less wasted lumber overall. You don't have to recreate the patterns over and over again.
Owning a CNC router will save you so much time and effort in the long run by providing machine level precision that only the most experienced craftsman can approach.
What is the best router table for CNC router? interesting to find out.
Picking the Best CNC Router for Woodworking Projects
Now that we know how CNC routers work for woodworking and the benefits of owning one, we can learn the key features to look for before purchasing a CNC router for your use or your company's use.
Material: When it comes to what material the CNC router can cut, not all routers are created equal. The more heavy-duty CNC routers are able to cut through steel whereas the smaller, desktop routers are only able to cut through softer materials like plastic and wood. Each router will list what it can cut through. The smaller CNC routers should be sufficient for woodworking and wood projects you have but if you want to get industrial you may need something more elaborate.
Spindle: The spindle (a.k.a. the milling head) is a very important part of a CNC router. Every brand has different spindle options to choose from.
For the right spindle you need to know the horse speed you need for your projects. Heavy use and a poorly made spindle, means you'll be spending money constantly on replacement spindles.
The CNC router you buy should have the the right spindle options for the types of projects you want to tackle. The softer the material you're cutting, the softer your spindle should be.
Also, keep in mind the cooling system of the router's spindle. If your spindle gets too hot, your spindle's lifespan will cut down quickly. There are two cooling systems used, either water cooling or air cooling.
A water-cooling spindle obviously uses water to keep it cooled down. These spindles stay cool and it's a very effective system. However, that means you need a water pump installed which calls for more work.
Air cooling spindles blow cool air to keep the spindle from overheating. This cooling system doesn't require any pumps or added mechanics to be installed. It isn't quite as effective as a water cooling system but it gets the job done.
Availability: Before purchasing a CNC router you need to check the availability of the bits and parts. For some brands, finding the parts you need for your router can be an issue which over time can become a major headache.
Space: You need to know what space you're working with since some of these routers can be big beasts. If you only have a small woodworking wood shop, you'll want to stick to a desktop CNC router rather than an industrial-sized router for designing.
Price: We know price is a concern for everyone. Unfortunately, CNC routers can get very expensive, especially the more heavy-duty industrial CNC routers. Don't be afraid to shop around and compare prices from different brands and retailers. Keep your budget always in the back of your mind.
Conclusion
There are so many types of CNC wood routers to choose from, but one can also choose from the best plunge routers. As you look into these machines you'll find everything from DIY Mini CNC Kits to CNC Units with Name Brand Routers built-in on up to high-end commercial units and everything in between. Make a list of important qualities based on the type of projects you want to use it for before you shop.