Best Router Table: The Top 4 Reviews & Buyer's Guide 2018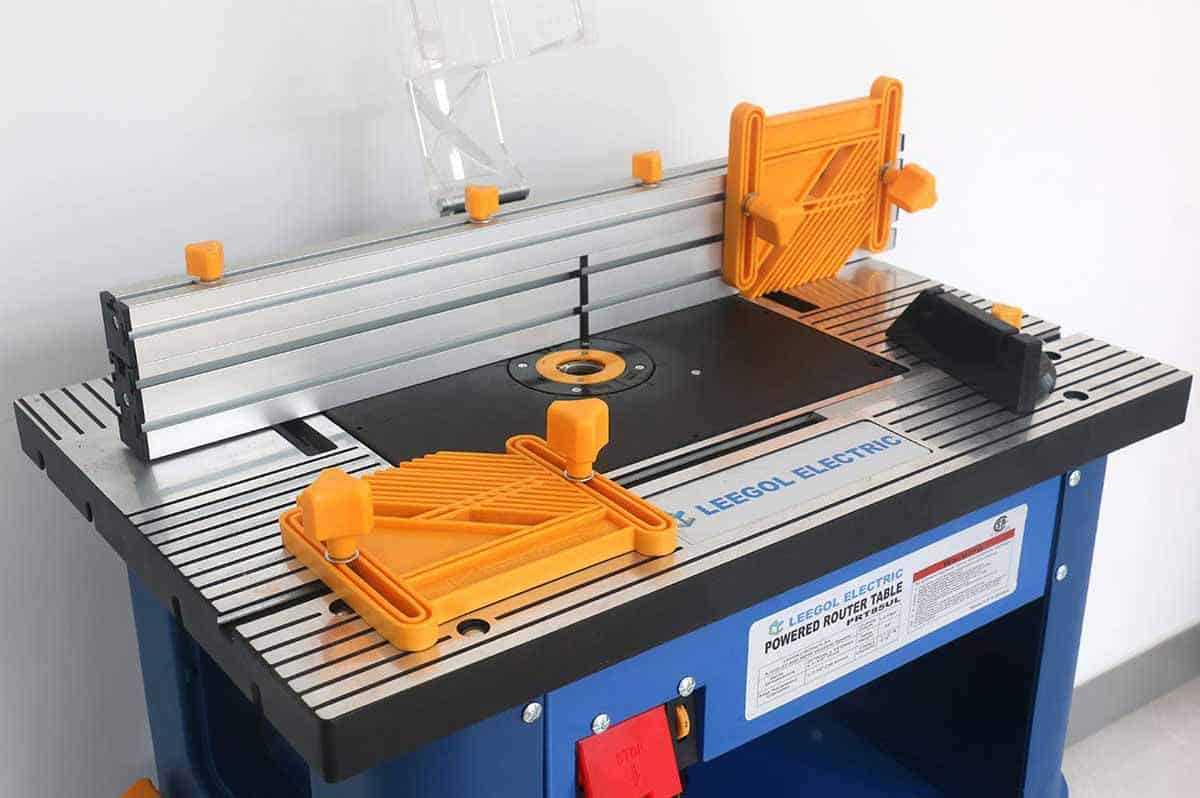 Whether woodworking is your passion or it's just an occasional past time, you still want all the best tools for your beautiful and woodworking creations. We all want the best tools.
For the perfect furniture and the most creative designs, you want a router that will provide precision.
Using a router table instead of just a handheld router has several benefits.

These tables give you the ability to control the speed and the rate at which the wood is being manipulated. They're fantastic for working with smaller pieces of wood and smaller projects.
​We'll go over the basics of shopping for the perfect router table as well as the top router tables in 2018.
Bosch Benchtop Router Table RA1181
KREG Precision Router Table System, Kreg# PRS1045
Craftsman Router and Router Table Combo
Leegol Electric Tabletop Saw Powered Router Table
The Right Qualities in a Router Table
There are several important qualities you need to look for before purchasing a router table or routing table. Checking out these elements while you're shopping will ensure you pick the best router table to fit all your needs.
Work Surface/Table Top
The table top on the routing table is a key feature as it is where all your work is going to be done and completed.
You need a flat and rigid table top similar to butcher block countertops. A flat surface helps you with accuracy while a rigid surface means the top won't warp while you're working. A sturdy and stable work surface is what will provide perfection while you work away.
Steel and aluminum are the best materials for your table top to be constructed with. They prevent the work surface from warping when a large amount of pressure is applied. These router tables will last you longer.
Base Plate
The base plate is where you attach your router to the table. Like your work surface, you need the base plate to be rigid and stable.
The base plate should also be completely level with the work surface or the table top. This ensures a perfect connection between the two and accurate cutting as you go along.
The 2 best materials that a base plate can be constructed of is phenolic and aluminum. These materials make it easier for you to drill any holes you may need for your router into the base plate.
Fence
The fence on a router table is what helps you make the perfect cuts while working on your wood project.
You need a flexible fence on your table so you can adjust it for your needs. Not only do you need it to be flexible but as you adjust it, it should lock in place so it doesn't move around while you're working.
You have 2 options for fences. There are split fences and fences that are only one piece. What you choose is what works easiest for you as you work.
Top 4 Router Tables in 2018
Bosch Benchtop Router Table RA1181
The Bosch Bench-top router table includes 2 feather boards, 3 mounting plate insert rings, an adjustable clear guard, mounting hardware, outfeed fence shims, a router table, and a starting pin and guard.
The Bench-top router table will attach to any workbench.
The mounting plate is rigid and has pre-drilled holes that will fit most routers on the market.
The router compatibility has up to a 3 ½-bit capacity.
The fence is made of aluminum with an MDF face plate.
It has a max fence opening as well as throat opening of 2 5/8 inches.
The table top has a 27-inch by 18-inch work surface for you to use.
This router table comes with a 1-year warranty.
Sale
Bosch Benchtop Router Table RA1181
Benchtop router table; attaches to any workbench
2 Adjustable featherboards; dust collection port; dual outlet switch; 6-Feet power cord
Aluminum fence with MDF face plates; aluminum router mounting plate
Includes router table, 3 mounting plate insert rings, mounting hardware for most Bosch routers, 2 featherboards, adjustable clear guard, starter pin and guard, outfeed fence shims
27-Inch by 18-Inch work surface; 6-Feet long; 1-Year warranty.Max. Throat Opening:3-5/8 inches
KREG Precision Router Table System PRS1045
The KREG Precision router table includes a fence, an insert plate, a router table top, and a multi-purpose steel stand.
The router work surface has 24by 32inches of space for you to work with and work on.
The table top has a router insert plate with 3 molded Level-Loc reducing rings.
The fence is a 36-inch T-square and has a micro adjust wheel so you can have an exact setup you need for your project.
The outfeed anchor has been redesigned from the last release so now it's easier to remove from workbenches and includes more workspace than ever before.
The stand of the router table is made of heavy-duty steel and adjustable. The stand can be changed from 31 inches to 39 inches in height, depending on what's more comfortable for you while you work.
Sale
KREG Precision Router Table System, Kreg# PRS1045
24" x 32" router table top includes a router insert plate with three molded Level-Loc reducing rings
36" T-square style router table fence features a micro-adjust wheel for precise setups
Outfeed anchor has been redesigned for more usable table space and easier removal
Multi-purpose steel stand is adjustable from 31" to 39" in height
Includes Router Table Top with insert plate, Router Table Fence and Multi-Purpose Steel Stand. #148166 KREG 4pc Casters Set not included.
Craftsman Router and Router Table Combo
The Craftsman router table combo includes a router with 1 3/4 horsepower, a ¼-inch collet, 2 feather boards, 3 insert rings, a dust guard, a fence, a miter gauge, a table, and even a wrench.
The 9.5-amp router that's included has a 1 3/4 HP motor that runs at 27,000 RPMs. Better still, this router was built with a permanent lubricated and sealed ball bearings for a much longer motor life.
The thick laminate work surface has 334 inches of space for you to work on.
The cutting depths can be locked down to even microfiber adjustments as needed.
The fence is able to adjust for bit clearance. The infeed and outfeed can extend up to 2 inches. The jointing fence can set up to 9/16 inches.
The table can work with most Craftsman routers they sell.
The miter gauge can adjust up to 60 degrees in both directions.
Leegol Tabletop Saw Powered Router Table
The Leegol tabletop router table includes 2 collets, 2 feather boards, an adjustable fence, a guard assembly, a miter guard, and a router table.
The work surface for this router table is made of aluminum. It offers 27 by 18 inches of space for you to work with.
The fence is made of aluminum and is 4 inches tall and 27 inches long.
The max fence opening and max throat opening is 2 5/8 inches. It can accept router bits that are up to 3 1/2 inches in diameter.
This router table has a dust port that connects to the aluminum fence. The standard sized hose of 2 1/2 inches will fit the port so you can suck up dust and keep your router table looking brand new.
The feather boards are easily adjustable. They attach to the fence and the table. These feather boards give you stability and control while you're working with wood.
This router table includes 100 percent satisfaction guaranteed and a manufacturer lifetime warranty.
Leegol Electric Tabletop Saw Powered Router Table
Aluminum fence - With a tall aluminum fence measuring 4-Inches in height by 27-Inches in length, the table handles tall stock with ease.
Dust ports - Features a dust collection port in the fence that accepts standard 2-1/2-Inch hoses to connect to a dust collection system or shop vacuum.
Large aluminum work surface - Large precision machined 27-Inch x 18-Inch aluminum work surface. It has a maximum fence opening and a maximum throat opening of 2 5/8-Inches, and accepts router bits up to 3 1/2-Inches in diameter.
Adjustable featherboards - The two easy-to-use featherboards attach to the fence and table. They are adjustable to fit a variety of work pieces. They also provide additional support and control while feeding stock across the routing table.
100% Satisfaction Guaranteed: With a manufacturer lifetime warranty you can be sure you will get a quality gift.
Conclusion
A router table is a perfect addition to your workshop, whether you have a dedicated workshop area or you use your garage as a mini-workshop. These awesome tables will give you ultimate control of your cutting, down to the smallest cut. Precision is what will help you make beautiful woodwork.