The Best Router Table That Can Make Your Life Easier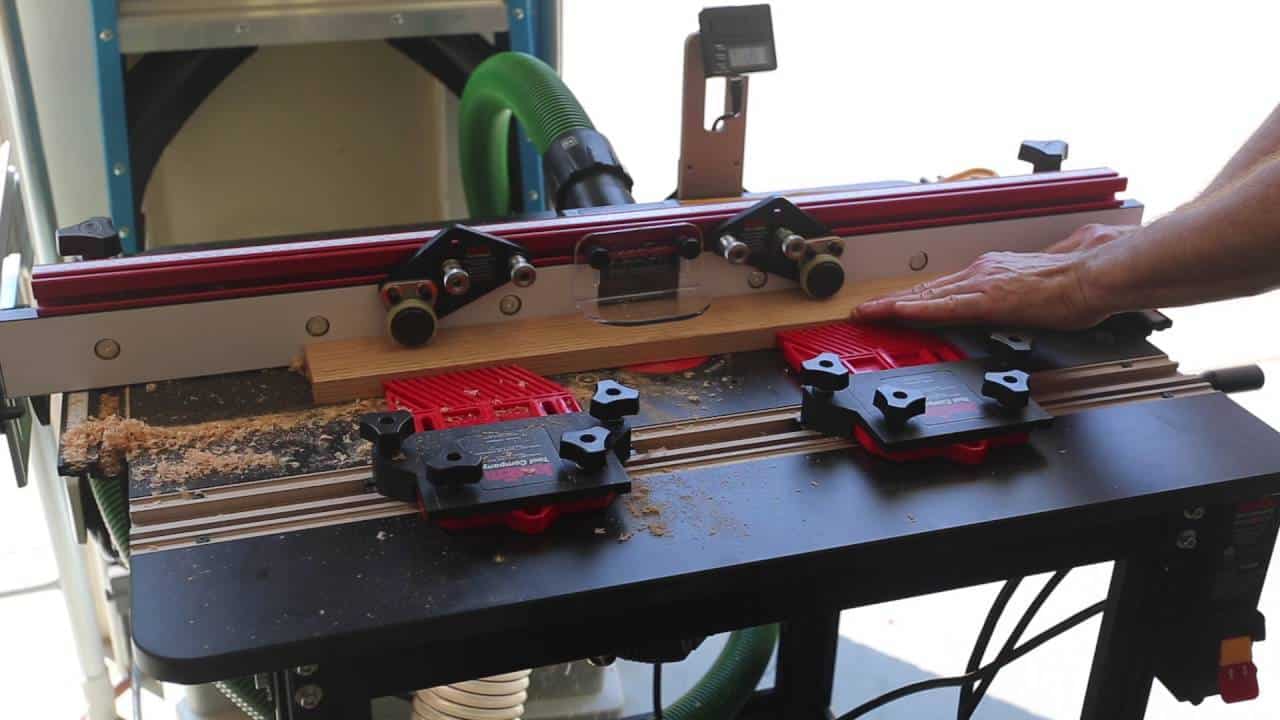 Whether woodworking is your passion or you're more of a hobbyist, you still want all the best tools for your beautiful woodworking creations. Beginners and experts alike want the best tools, so let's find the best router table for you.
For the perfect furniture and the most creative designs, you want a router with versatility that will provide precision. Once you have a router, you really need a tabletop to get the most out of it. All the best wood routers can be adjusted on routing tables. A router table really allows you to set up precision shaping and routing projects in a consistent and repeatable way that cannot be done with a hand router alone.
Here we'll try to provide a good overview of router tables and our recommendations for the best options on the market.
What Is a Router Table?
Using a router table combo instead of just a handheld router has several benefits, even over models with more portability. Router tables are stationary workpieces that utilize a vertically oriented spindle for the router that extends from the table and can be spun at speeds between 3,000 and 24,000 rpm.
These combos can prove useful in a variety of different woodworking applications including, but not limited to, edge trimming and template work, creating grooves and slots, stopped cuts, and dovetail and box joinery. In addition, they can also help make raised panel doors, lock-miters, drawer locks, and finger joints.
Benefits of a Router Table
Using a table router is a lot easier and much faster than using a hand router alone. You will also find that those narrow boards that need a shaper are much easier to shape on a table surface. It also allows you to cut with more precision.
Precision is one of the most important things for woodwork projects, and the table router allows you to use different templates, clamps, and rails to make the job much easier to complete. These tables can also reduce the time it takes to cut each piece of wood, meaning faster completions.
There are many long term benefits as well including gaining more skill and experience as you use the solid top more frequently and for bigger projects. Beginner woodworkers will also be able to graduate to those bigger and better projects more easily.
Despite the many benefits router tables offer, there are a few downsides you need to be aware of as well. Purchasing a router table is rough on customers with a low budget, especially when they have to purchase the router and additional accessories. Some tables and accessories may also be hard to fit in small workshops.
There is also a learning curve. While it may be hard to grasp in the beginning, with practice you will gain the skills and experience you need to begin to work on even more complex tasks. It just requires a little time and patience.
Types of Router Tables
Several types of table routers are available for purchase. These tables include benchtop, floor-standing, and extension tables. We will explain a few features of each below:
Benchtop Tables are among the more versatile options to choose from, and they're portable tables. You also have the added convenience of built-in components like a starter pin, guard, and adjustable MDF plates.
Floor Standing Tables are also pretty portable and are popular choices because they are easy to mount, they are fairly compact router tables, and they also feature useful and versatile additions to make routing operations easier.
Extension Tables are great for those with limited space, and they come with a plethora of great features including a wooden frame, measuring tape, split fence, and more.
These tables give you the ability to control the rate at which the wood is being manipulated. They're fantastic for smaller projects.
Finding a portable router table will also offer you more space because they're smaller, more compact, and can be moved to wherever they're needed.
We'll go over the basics of shopping for the perfect router table as well as the top router tables in 2019. A high-quality router table can be purchased from companies like craftsman, porter-cable, bosch, and kreg. The following are some of the best router table reviews:
Top Four Picks
BOSCH RA1181 Benchtop Router Table 27 in. x 18 in. Aluminum Top with 2-1/2 in. Vacuum Hose Port
Kreg PRS1045 Precision Router Table System - Self-Squaring Router Table Fence System - Sits on Precision Router Table Top - Carpentry Tools & Accessories
JESSEM Mast-R-Lift Excel II Included Complete Router Table System
BOSCH RA1181 Benchtop Router Table 27 in. x 18 in. Aluminum Top with 2-1/2 in. Vacuum Hose Port
Kreg PRS1045 Precision Router Table System - Self-Squaring Router Table Fence System - Sits on Precision Router Table Top - Carpentry Tools & Accessories
JESSEM Mast-R-Lift Excel II Included Complete Router Table System
The Right Qualities in a Router Table
There are several important qualities you need to look for before purchasing the best router table or routing table. Checking out these elements while you're shopping will ensure you pick the best router table to fit all your needs.
Work Surface/Table Top
The table top on the routing table is a key feature as it is where all your work is going to be done and completed.The first thing you need is a flat and rigid table top similar to butcher block countertops. A flat surface helps you with accuracy while a rigid surface means the top won't warp while you're working. A sturdy and stable work surface is what will provide perfection while you work away.
Steel and aluminum are the best materials for your table top to be constructed with. They prevent the surface from warping when a large amount of pressure is applied. These table routers will last you longer and resist scratching. You could also try a laminate table for smaller projects, and there are high-pressure laminate variations.
Base Plate
The base plate is where you attach your router to the table. Like your work surface, you need the base plate to be rigid and stable, so an aluminum mounting plate is a good choice.
The base plate should also be completely level with the work surface or the table top. This ensures a perfect connection between the two and accurate cutting as you go along.
The two best materials that a base plate can be constructed of is phenolic and aluminum. These materials make it easier for you to drill any holes you may need for your router into the base plate.
Fence
The router fence is what helps you make the perfect cuts while working on your wood project.
You need a flexible router fence on your table so you can adjust it to your needs. Not only do you need it to be flexible, but as you adjust it, it should lock in place, so it doesn't move around while you're working.
You have two options for fences. Some split fences and fences are only one piece. What you choose is what works easiest for you as you work. Look for one that best protects against bumps and can be attached to the side of the table to help during edge profiles. It's also a good idea to have dust guards and containers placed on the underside of the table for debris.
Top 4 Router Tables in 2019
Bosch Benchtop Router Table RA1181
This benchtop router table from Bosch includes the table, three mounting plate insert rings, mounting hardware for most Bosch routers, two feather boards, an adjustable clear guard, starter pin and guard, and outfeed fence shims in addition to the many features listed below. It offers a 27-inch by 18-inch work surface with a throat opening of 3 5/8 inches.
Features
The Bosch Bench-top router table includes two feather boards, three mounting plate insert rings, an adjustable clear guard, mounting hardware, outfeed fence shims, a table router, and a starting pin and guard
The Bench-top router table will attach to any workbench, so it is an extremely portable router table
The mounting plate is rigid and has pre-drilled holes that will fit most routers on the market
The router compatibility has up to a 3 ½-bit capacity
The fence is made of aluminum with an MDF faceplate
Max fence opening as well as throat opening of 2 5/8"
The table top has a 27" x 18" work surface
This router table comes with a 1-year warranty
Six-foot power cord and dual outlet switch
Includes a dust collection port
What are People Saying?
Bosch is a great brand and often a reliable choice for the home shop. With this particular router, the reviews are mostly positive with a few complaints about specific features. Some users reported that the sliding fence adjustment on this router and router table is not smooth and often gets stuck. The mounting plate also uses four leveling screws that need to be set before insertion, and many find it can be difficult to get the plate leveled with the table.
Many customers report the dust collection and dust extraction feature is effective but it still needs to be cleaned periodically. Overall the table is stable, and the added features are convenient.
Best Choice for the Generalist
This Bosch router table is a solid choice for the generalist who needs a reliable router table for occasional use at a reasonable price. It's got the necessities and should serve its purpose for years to come.
BOSCH RA1181 Benchtop Router Table 27 in. x 18 in. Aluminum Top with 2-1/2 in. Vacuum Hose Port
Benchtop router table design – Features a large aluminum top for extended work area, durability and precision
Rigid aluminum mounting plate – Pre-drilled for compatibility with a variety of routers and for above-table height adjustment
Extra tall aluminum fence – Has adjustable faceplates and feather boards to maximize precision and versatility
Dedicated standard dust-collection port – Fits standard 2-1/2 inch vacuum hoses for debris-free operation to help keep your work area clean
Easy-to-use adjustable feather boards – Attach to fence and table, providing additional guidance and kickback protection
KREG Precision Router Table System PRS1045
From the makers of the KREG jig (of which I'm a big fan), this durable KREG router table system provides a surface area of 24" x 32" and includes a router insert plate with three molded Level-Loc reducing rings. The multi-purpose steel stand offers a height adjustment of between 31 – 39 inches. You can also purchase a four-piece castor set separately for this router and router table.
Features:
The KREG Precision router table includes a fence, an insert plate, a router table top, and a multi-purpose steel stand
24" x 32" inches of space
Router insert plate with three molded Level-Loc reducing rings
The fence is a 36" T-square and has a micro-adjust wheel, so you can have an exact setup you need for your project
The outfeed anchor has been redesigned from the last release, so now it's easier to remove from workbenches and includes more workspace than ever before
The adjustable stand is made of heavy-duty steel, and the stand can be changed from 31" to 39" in height
What People are Saying:
Most people believe it is of solid construction, and the slotted channels featured on this table are perfect for attaching accessories. Areas for improvement include adding an additional dust collection feature underneath the table surrounding the motor. Additionally, assembly took some folks quite a while, and it could be a frustrating process.
Best Choice for the Precision Woodworker
The Kreg router table is a step up from the benchtop models and is a solid table at this price point. It's solid build and precision capabilities will pay dividends if you do a good deal of precision work and have space for a table system.
JESSEM Mast-R-Lift Excel II Complete Router Table System
The JessEm Mast-R-Lift Excel II Table is a high-end router table that includes a router lift, phenolic router table top, Mast-R-Fence II table fence and steel router table stand. This table can be upgraded and expanded to have additional features such as a digital readout and/or a remote power adapter.
Features:
Includes JessEm Mast-R-Lift Excel II for most cylinder router motors
32" x 24" phenolic table with aluminum extruded miter track & T-track
Extruded aluminum router table fence with fully adjustable fence faces
Rigid, heavy-duty steel stand with upper and lower stretchers
Optional items such as Digital Readout Attachment and Pow-R-Tek Remote Power Switch not included
The table can work with most routers but may require bushing adapters.
What People are Saying:
Most users love this table for the build quality, precision, and ease of adjustment. Users also like the upgradeability and amount of accessories available for the JessEm tables. There are a few complaints about instructions lacking clarity and being confusing, but overall this table is popular with owners.
Best Choice for the Woodworker who wants the Best!
The JessEm router table is built like a precision tank and offers endless upgrades and accessories. This quality comes at a price. At almost twice the cost of the Kreg table, this system is best for the customer who wants the best tools possible and can justify the budget required. Plunge routers are best adjusted on routing tables.
JESSEM Mast-R-Lift Excel II Included Complete Router Table System
Includes JessEm Mast-R-Lift Excel II for most cylinder router motors
32" x 24" phenolic table with aluminum extruded miter track & T-track
Extruded aluminum router table fence with fully adjustable fence faces
Rigid, heavy-duty steel stand with upper and lower stretchers
Optional Digital Readout Attachment and Pow-R-Tek Remote Power Switch not included
Bench Dog Cast Iron Router Table, Pro Fence, Steel Stand & FX Router Lift
The Bench Dog Table is a solid all-around option for a table at a budget between the Kreg and the JessEm tables. The Bench Dog is more substantial than the Kreg with slightly fewer features than the JessEm. I had the opportunity to use one of these tables in a friend's workshop. I was amazed at how solid and substantial the table is and how relatively easy it was to make precision adjustments. You may not have heard of bench dog tools, but this table is cast iron, and vibration is practically non-existent.
Features:
Dual T-tracks in the table: a standard miter slot and a Universal T-track for accessories
Cast iron top provides over five square feet of surface area
Universal T-tracks accept 1/4'' and 5/16'' T-bolts as well as 1/4'' hex bolts – perfect for hold-downs, stops, featherboards and more
32'' Pro Fence is precision machined for flatness and squareness and includes front- and rear-mounted universal accessory T-tracks
Steel stand has pre-drilled holes so you can add your own cabinet or dust shroud
Pro Lift with Quick-Gear rapid height adjustment and tool-free Snap-Lock insert rings
What People are Saying:
This table is solid with low vibration and easy precise adjustment mechanisms. The lift is fast and easy to use, and there are adapters available for smaller router motors in the event you want to use a smaller one today and upgrade in the future. The only real complaint is that installation can be challenging, and some users report having to angle grind a metal tab as part of the assembly.
Best Choice for High Quality at a Good Value
The build quality of the Bench Dog is unbeatable at this price point. This router table is easily on par with the more expensive JessEm without some of the bells and whistles. The cast iron table ensures a good work area and minimum vibration for your precision routing needs.
Router Table Safety
Before you run out and buy some new tools - don't forget about safety. Routers spin extremely fast and can be a danger to work with if you are not familiar with exactly how they operate. When using a routing table, you need your full attention focused on the task at hand because accidents can happen suddenly and without warning. The following are just a few safety rules and tips to keep in mind when working with your new router table.
When it is time to change the bit, make sure to unplug the machine
Whenever possible, be sure to cover the bit with a guard
Always wear eye protection and hearing protection
Keep your fingers away with feather boards and push sticks
Move pieces you are working with counterclockwise around a piloted bit
Conclusion
A router table is a perfect addition to your workshop, whether you have a dedicated workshop area, or you use your garage as a mini-workshop. These awesome tables will give you ultimate control of your cutting, down to the smallest cut. Precision is what will help you make beautiful woodwork. These will give your wood routers a good place to lean. What is the best router for a router table? Or, should you get a cnc router instead? Click around and leave a comment on what you decide.