Plunger Router Or Fixed: Which One To Buy?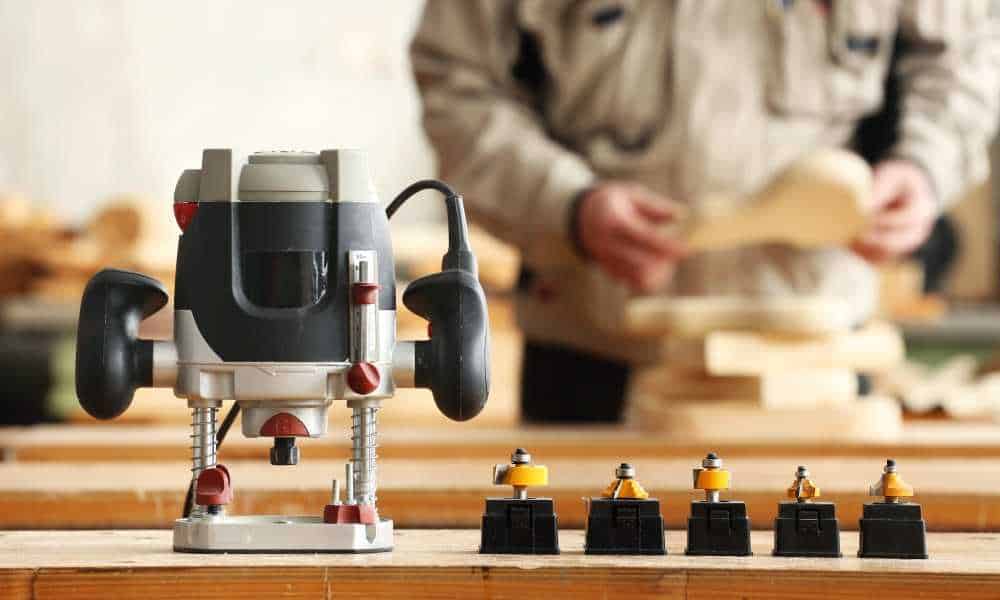 When it comes to working with wood, there is an abundance of tools that you might be interested in, especially if you're dealing with intricate carvings. This is when most people are faced with the decision between a plunge router versus a fixed router. Did you know we can cut a groove in wood with a router? wondering how? check how to use a router to cut a groove review.
Plenty of woodworkers believe owning both is beneficial whereas those lacking budget or space may prefer to stick with one or the other. However, it's important to take your personal needs into account as you might find that owning both a plunge and fixed router is exactly what you need as each carries their own array of benefits.
To make the best decision, be sure to use this guide to not only understand the differences between a plunge router vs. a fixed router, but also to understand how to buy the perfect tools for your needs.
What is a Fixed Router?
Also referred to as a fixed-base router, a fixed router is designed to give you relatively the same cutting capabilities as a plunge router, but with far less versatility. Much like its name suggests, the router has a fixed position at the bottom of the cutting bit, preventing it from being able to move (or plunge).
If you're looking for something that is will give you the most precise cuts imaginable, you'll definitely be interested in a fixed router, as you won't have to worry about a maneuverable cutting base. It can also be incredibly simple to use if you decide to mount it to a router table to create unique and intricate designs.
Some of the main benefits of a fixed router include:
Accuracy: The most important difference between a plunge base router vs. fixed-base router is the fact that fixed-based routers are more accurate, which is incredibly important if you're working with delicate pieces such as dovetails. The last thing you'll want is to rely on a plunge router, only to have it make an improper cut meaning you have to start the process all over again.
Compact Size: Fixed routers are often smaller than plunge base routers, which can be quite important for plenty of tradespeople, especially if you have to bring your tools from one place to another. It's always best to opt for the least heavy equipment so you can easily transport it with you from job site to job site.
Less Weight: Along with its smaller size, a fixed router is also less heavy which is great for avoiding hand, wrist and arm strain if you're unable to mount the tool to the table. You'll be able to use one with ease and without having to take breaks in between due to a sore wrist.
What is a Plunge Router?
On the other end of the spectrum, you have plunge routers. These tools are designed to offer a little more versatility, especially if you're working with varying depths of the wood.
With a plunge router, you have the opportunity to engage the material from above, as the router bit is able to plunge up and down based on the thickness of the wood. In many cases, a plunge router is the best option because you can essentially customize how the tool works.

One of the most interesting features of a plunge router is that you can also transform it into a fixed router, as the majority of models come with a locking mechanism that allows you to lock in a specific depth. What is the best router table for plunge router? interesting to find out.

The only downside to a plunge router is that it might be slightly less accurate than its counterpart due to the fact that the cutting bit is able to move. You're going to need a relatively steady hand unless you're able to mount the tool to a routing table. Top rated plunge routers reviews are also available.


Some of the main benefits of a plunge router include:
Versatility: There are plenty of people who opt for a plunge router instead of a fixed router simply because they're far more versatile when it comes to customizing the depths of your cuts. Not to mention that you also have the ability to set the tool at a specific depth if you want to use it as if it were a fixed-base router. Its versatility is what really sets it apart from other woodworking tools.
User-Friendly: Plunge routers are also user-friendly as they take the difficulty out of using a fixed router, especially as you have more versatile options to choose from. If you have the money to invest in a plunge router as a first-time woodworker, it's certainly recommended.
What about a Combo Router?
These days, people also have the opportunity to choose a combo router, which may be more expensive but offers the best of both worlds. The majority of manufacturers will create a kit that comes with both a plunge and fixed base and single motor housing.
You'll then have the ability to switch out the base depending on the project you're working on, but at the end of the day, you'll still have access to both a fixed and plunge router, making it simpler to tackle small and heavy-duty projects.
How to Choose the Best Router
Routers allow you to create different patterns on edges with the use of different bits. You can add decorative touches to the edges of your wood in just a matter of minutes. With hundreds of router bits available to choose from, having a wood router in your workshop offers you the versatility you need when it comes to woodworking.
Choosing which is best for you may seem like a difficult and daunting task - especially with the endless choices that seem to be available, but we are here to try to make it a bit easier for you.
Key Specifications
The torque is the measure of the cutting force behind the bit which means this characteristic is a good indicator of the router's ability to cut materials that have different levels of hardness. Many hobbyists are happy with small routers that have a torque of 1.25-1.75 horsepower such as this Dewalt Compact Combo Router Kit. Whereas, I prefer the more robust and powerful 2.25 HP options like this Bosch Variable Speed Combo Router Kit.
Another thing to consider is the RPM range of a router. Many routers are variable speed but the true impact of the RPM range has to do with the size of the bits you can use. Larger router bits will require slower RPM such that the Bosch router mentioned above can run at 8000 RPM and handle a larger bit than the Dewalt that's slowest RPM is 16000 RPM
You'll also see variables such as depth that will vary with the base with a plunge router or plunge base going deeper than a fixed. You also might consider compatibility with a router table as it could be something you add down the road. Router tables can make certain tasks such as edge trimming and dovetail joinery much easier than using your router in a hand-held setup.
Do You Need a Full-Size Router?
Full-size routers will, of course, cost more than the smaller variety. However, just because you have a bigger router, it doesn't mean that it will be better. Often, you will find that the smaller handheld routers prove to be much more useful for smaller projects. Sometimes quicker, easier, cheaper and easier to store makes a ton of sense for a router.
Larger routers, on the other hand, are good for larger projects including raising panels for cabinet doors and for using larger profiling router bits. The extra cost can be worth it if you're planning to do a bunch of intricate woodwork.
In conclusion, make sure to measure a router's capability by taking a closer look at its torque and RPM and whether or not the RPM will work efficiently with larger bits if you need that capability. You also need to understand the type of wood you are cutting with the router as well because higher torque will be needed for hardwood. And of course don't forget about size and accuracy and potentially adding a router table in the future. If you follow these buying tips, you are sure to have a much easier time choosing the router you want that delivers the performance you need. All types of best wood routers are available in the market.
Features You Should Consider
The following features are definitely some that you should consider when finding the perfect router for woodworking:
Removable Motor Pack - A default feature of combination kits this will let you switch between a fixed and a plunge router
Convenient Off/On Switch - It can be a pain when the on/off switch isn't in an easily accessible area. It should be in a convenient and easy to reach location on your handheld or even router tables.
Quick Release Motor Latch - Allows for easier and faster motor removal for the router bit and router base.
Variable Speed - For safety and performance, the speed of the wood router is important. If the speed is any greater than 25000 RPM, you can put too much stress on the bits which means the cutting performance will significantly suffer. Different projects call for different speeds so having variable speed settings can prove to be very beneficial.
Above the Table Adjustment - This feature is great for table routers and makes it much more precise and convenient.
Soft Start - This prevents the router from turning on and immediately hitting full speed. Instead, it allows you to ease into the cut without the loud and startling noise and possible jerks from the unexpected start. Also avoids damaging the wood at the beginning of the routing cut.
Spindle Lock - You will find that several wood routers require two wrenches each time you want to change the bits. One of the wrenches holds the motor shaft while the other loosens and tightens the collet. A spindle lock only requires one wrench because they feature a spring-loaded pin or a locking collar that effectively holds the motor shaft in place while you change out the router bit.
Dust Collection - Depending on your shop setup this feature can go a long way to keeping a clean work space. A port to connect a dust collection hose is important if you don't want the wood dust from the routing process to decorate your floor.
FINAL VERDICT
With plenty of woodworking tools to choose from, equipping yourself with a good router is easier than you might think, as long as you take your personal needs into account when choosing which power tool is best.
A wood router with variable speed control offerings, single motor housing, ergonomic handles, and one that allows for easy adjustment and bit changes and future table compatibility is one that you may want to consider. Or if you are interested in more automated features for your routing you could explore cnc routers to take things to another level.