Best Sliding Compound Miter Saw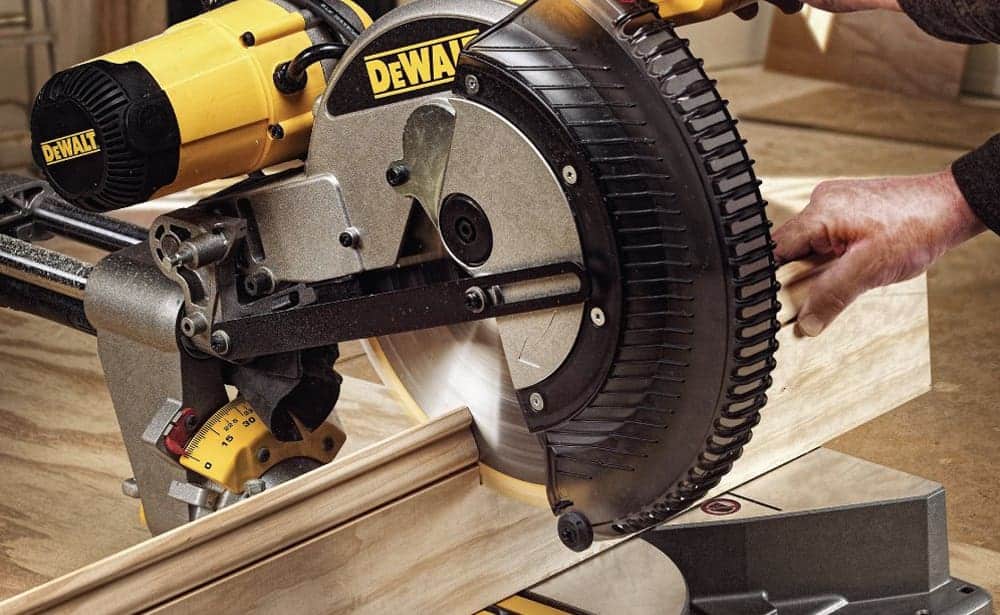 The ability to do woodworking and carpentry is a skill that takes time to hone. Whether you do it for a living, as a hobby in your home it takes some talent and a basic understanding of the work itself to do it properly. While smaller woodworking jobs do not always need the big tools, a sliding compound miter saw will come in handy on a multitude of projects. It makes cutting trim and building lumber much easier. This was my first "big" tool and still gets used more than any other.
While this type of saw is often mistakenly called a chop saw, this is not what it is as this miter saw is more versatile and does more than just "chop". A sliding compound miter saw can make repeated angle cuts at the same angle fast and with precision. These saws will make easy work of crown molding, door frames, window casings and items like picture frames. They are a must-have addition to any carpentry or woodworking shop whether it be professional or hobbyist.
What is a Sliding Compound Miter Saw?
This type of saw offers a versatile way to make both miter and bevel cuts. A miter cut is the one that is made to create a corner. You are cutting two pieces, usually, at a 45° angle each, that will then be joined to make a 90° angle. This is done with this particular saw by rotating the base. The second type of cut is a bevel cut. This can be a duel or single and means the cut is done on an angle by tilting the blades. These types of cuts usually can be done up to 45-50°. On top of these two types of woodworking cuts, this saw is designed so the blade and motor can move forward and back on a set of rails or an articulated arm meaning the user can crosscut wood up to 12" across. They can also tilt side to side and pivot downwards as needed meaning the user can do wider cuts than they could with a stationary saw.
Assessing Your Sliding Compound Miter Saw Needs
There are a few things you need to consider and understand when looking for the best sliding compound miter saw. There are lots of great products on the market but there may be one that is better for you specifically over another. You need to look at a few details before you make a decision on which one to invest in:
Blades – The blade is the part that determines the depth or height of a saw cut. Most mitre saws are 8, 10 or 12" blades and come in different styles depending on the material you are going to be cutting. There are blades for wood, aluminum or light steel. Blades with a lot of teeth will offer a finer cut leaving the project with a cleaner finish. The most popular and offered blade is for wood. Make sure the saw that you get can use the blade for the material you will be using it for.
Miter – Understanding what a miter is will help explain the name and help you decide if you need it for your specific project. A miter is an angled cut; hence the name miter saw. These saws can be pre-set to angles that allow the user to create items that could not be done as easily with a regular saw. If you are looking to cut angled items, then this saw is useful.
Slide – Having a miter saw with sliding action allows you to cut pieces of wood with more depth. When you are choosing your saw, check these numbers so you know what type of cut they can handle. The bigger the job the more helpful it is to have a big blade and width of cut.
Bevel/Compound – This means the saw head can tilt to the sides and also rotate on the table. There are saws that are both single and double (or dual) which means they can tilt to either side rather than just one. These types of saws are helpful as it means the wood doesn't need to be turned to make the angle work. Bevelling ability means the user can do complex angled cuts such as needed when working with crown molding or in the production of furniture. Something you need to be mindful of with this type of saw is that there is a higher potential that things can go awry with more moving parts.
Bonus features – While the above notes point out the items that should be critical when choosing the sliding compound miter saw that's best for you, there are other features while they are not critical may be helpful to have such as:
Lights – some saws have built-in LED lights to help with work in places that have poor lighting conditions.
Laser lines – This feature shows a red line across the material you are working on to highlight where the blade will cut. This is a good feature as it will verify that you are lining your cut up with your pencil line on the material itself. The laser line is however often slightly off of the cut so you'll need to get used to the offset for your particular saw.
Adjustable rear fence, extension arms and workpiece clamps – These are all items that will support the material and allow the user to stay free and out of the way of the blade.
Variable speed dial – This is a fairly new feature and can help set the speed according to your project and the material you need to cut. Having this means you can adapt the saw to particular features of the material you may be working with.
Accessories
Now that you have assessed what you may need when choosing the best sliding compound saw for you, you can look at some accessories to make sure you have everything you need as you begin your project. Choose the blades that are the correct diameter for your saw and make sure they have the right size hole in the middle. Having extra blades on hand can be a bonus as it assures you that you will not get held up in the middle of a project while you have to go out to buy another one at the last minute. Be aware, blades can be expensive but a really good blade like the Diablo brand can last much longer and result in finer cuts. If a blade starts to wear out you'll notice splintering in the wood around the cut.
The other helpful accessory may be a stand. Something like this may be important to your work if you are transporting the saw anywhere. You can get a folding style table for the saw to be placed on or one that has adjustable legs with long extensions with clamps and rollers. Both can make work easier if you are changing job sites often or perhaps you are simply moving it to where your work needs to be done. I had my compound miter saw for years and used it on the floor. When I finally bought a portable stand I couldn't believe I got along without it for so long. This may be expensive, although they come in a range of price points, it's well worth it for portability, convenience, and the ease of use added to your setup.
Dust Management
Any type of saw you use will produce sawdust. Whether it is a hand saw, power saw or miter saw, they all give off the dust as they cut. This is problematic if you are working in a small area or simply need to keep the area clean. It is something that you will need to deal with so as not to cause breathing issues or undue mess. The good thing about many sliding compound miter saws is they can do dust management with an attachment that will get rid of it or at least contain it without issue. Look for saws that have either dust bags or an ability to link up to vacuum systems so you can avoid the dust problems.
Time to Pick a Sliding Compound Miter Saw
Now that you know most of the info you need to gather to make an informed choice in regard to a miter saw, you want to look at the best selling options. You should continue to focus on the sliding compound miter saw that works best for you, not just the one that people say will be perfect.
DeWalt is a trustw​​orthy name when it comes to woodworking tools. They offer products that are well made, reliable and certainly worth the money you would spend on them. This saw is one of the best on the market with a strong 15 Amp 3800 RPM motor that can complete any job. It has sliding fences that will work with crown molding anywhere up to 5 ½" and base molding up to 4 ½" and then will move from the path when the user needs to make bevel cuts. Its unique back fence style cuts up to 2x14 dimensional lumber at 90° and 2x10 at 45°.
The miter detent plate is adjustable so the user can adjust as needed quickly to make sure everything is accurate. Accuracy is also supported with dual horizontal steel rails with linear ball bearings. There are 13 + miter detents that will quickly place the saw at miter angles that are most common. This speeds up work and makes sure there is consistency in the cuts. This saw has a big, red miter marker that makes finding the miter angles easy. Miters 60° on the right and 50° on the left offer increased capacity. Its solid aluminum base is strong and stable while the whole saw weighs only 52lbs making it simple to move and to store. It comes with a dust bag to help limit the mess.
Bosch is another solid brand in the construction tool industry and their saws are no different. This particular saw has some great features that can be a good addition to your woodworking shop. It has a system designed by Bosch called the Axial-Glide System that creates a gliding cutting motion, precise performance all in a compact style. This system supports wider cross cuts and good alignment as well. Its previously set Squarelock fences support this accuracy throughout the life of the saw. The handle is easy to hold and can be done with either hand, this combined with the combined dust path and vacuum adapter adds extra comfort for the user.
This Bosch saw offers big cutting capabilities and simple to understand bevel and miter scales that come with detents for easy use of regular use angles and roof pitch angles. The design has also put the controls up front for easy access. Because this particular saw does not use a regular rail set up, it takes up 12" less area in your workshop. Its motor is 15 Amp and holds a speed of 3800 RPM for fast and precise cuts in not only wood but other materials. It has a 14" horizontal capacity and a 6 ½" vertical capacity if next to the fence or base, and a 6 ½" nested crown capacity if next to the fence at 45°. With 2 integrated sliding base extensions, this saw is able to provide the support that can be adjusted for material that ranges up to 40" in length. Weighing in at 65lbs, its transportable and certainly usable on multiple sites and jobs as needed.
BOSCH GCM12SD 15 Amp 12 Inch Corded Dual-Bevel Sliding Glide Miter Saw with 60 Tooth Saw Blade
AXIAL GLIDE SYSTEM: patented glide system allows wider cross cuts and better alignment while also being compact, saving you 12 inches of valuable work space
CAPACITY: expanded cutting capacity, 14 inch horizontal capacity nominal 6 1/2 inch vertical capacity against the fence base 6 1/2 inch crown capacity against the fence 45 spring
ADJUSTABLE: provides easy adjustments with a large, easy-to-read uniform bevel and stainless steel miter scales with marked detentes and roof pitch angles; Bevel detents: 0, 33.9 degree, 45 degree left/right for accurate cuts; Category's best 90 percentage dust collection optimized for cutting 2x material with a vacuum
PRECISION: square lock quick release fences lock fence 90 degree to the table and requires no adjustment, 1 touch lock/unlock to slide fence for added support
EASE OF USE: upfront bevel controls all metal bevel lock lever and range selector located upfront for quick and easy bevel settings without reaching behind the saw
Final Thoughts
If you are building up your collection of woodwor​​king tools in your shop, it should include a sliding compound miter saw. While these tools tend to be on the pricey side, they make your woodworking projects so much easier and more accurate. They let you tackle the most finicky jobs with ease and simplicity. While you could use the old miter boxes that gave a basic working indication of where you needed to cut your angles, the accuracy, neatness and overall look of one done by a sliding compound miter saw changes the woodworking game. Not only are these saw extremely accurate, but they are quick and can efficiently move a woodworking project forward with little hesitation.
There are some great saws on the market but if you are looking for the best sliding compound miter saw, assess your needs, look at the top options and choose one that will not only fit your budget but will accomplish your work with polish and professionalism. You will not regret purchasing the best sliding compound miter saw that matches your requirements.