FEIN MultiMaster 350QSL Review: Is It The Right Choice?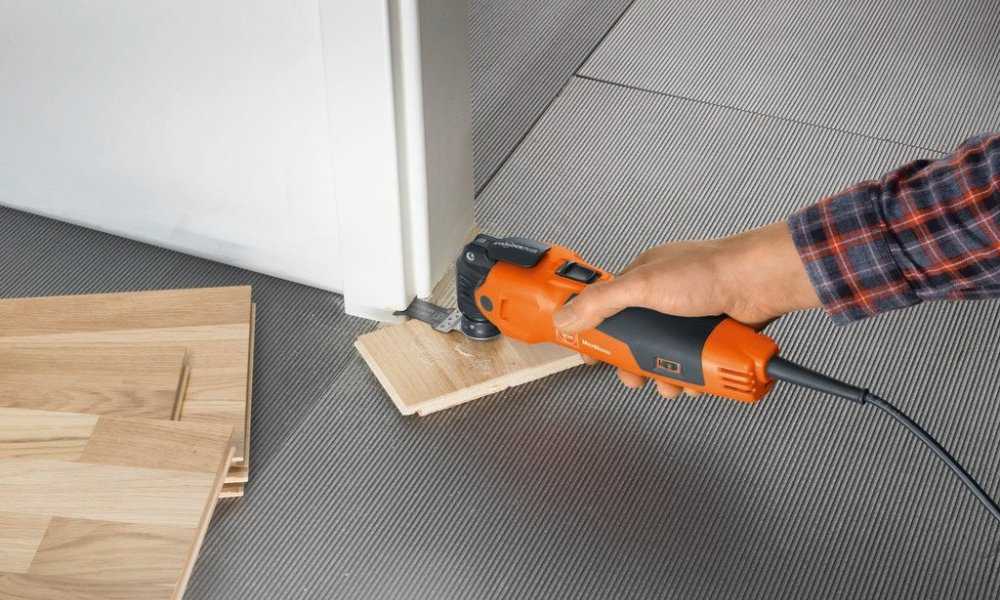 FEIN MultiMaster 350QSL: QUICK OVERVIEW
Because multi-tools are often marketed toward hobbyists, professionals may struggle to find a multi-tool that they can rely on in their working life. If you are a woodworking professional searching for a multi-tool that can endure heavy-duty use, consider purchasing the MultiMaster 350QSL from FEIN.
Unlike a lot of multi-tools, the FEIN MultiMaster 350QSL is strictly for professionals, which means no limitations and no compromises. Today, we're going to be looking at just some of the reasons you should add the FEIN MultiMaster 350QSL to your toolbox.
FEIN MultiMaster 350QSL Review
FEIN likes to present itself as the father of the oscillating tools, so it isn't any surprise that it has always tried to remain at the forefront of multi-tool innovation. Cutting tiles with oscillating tool is also very trending now a days. The brand's MultiMaster 350QSL is certainly innovative and has capabilities far beyond those of other less expensive models.
Having only hit the market in April of 2016, the MultiMaster 350QSL is among FEIN's most recent releases and boasts all of its latest multi-tool technology, so your clients can be certain they are getting the absolute best service modern technology allows.
Who is this product for?
As we have mentioned before, FEIN designed the MultiMaster 350QSL with professional woodworkers in mind, so tradespeople can purchase it safe in the knowledge that it doesn't feature any of the pratfalls or shortcomings of hobbyist multi-tools. That being said, the many unique and innovative features of this multi-tool have given it something of an inflated price tag.

Because it tends to sell for more than $200, the 350QSL is not a great choice for start-up businesses that are trying to find their footing on a limited budget. There are countless less expensive multi-tools on the market that will give you the performance you need to grow your business, and we advise against the extra expense of the FEIN MultiMaster 350QSL until you have a steady flow of clients and cash.
What's included?
When you purchase the FEIN MultiMaster 350QSL, you'll receive a universal 152 blade, a long-life 161 blade, a 234 scraper blade, and a segmented 106 blade.
Blades aside, the set also contains a triangle sanding pad and 12 sheets of sandpaper. The entire set, including the multi-tool itself, comes packaged in a branded plastic case for easy storage and transportation.
Overview of features
At 350 watts, the FEIN MultiMaster 350QSL is the most powerful oscillating tool on the market, so it's ideal for professional environments where time is money. FEIN fitted this multi-tool with its unique StarLock mounting system, which makes it possible to change accessories in just three seconds, no tools required!
Weighing in at less than four pounds, the MultiMaster 350QSL can be used for long periods without putting any strain on the back or arms. This lightweight design, combined with an ergonomic handle and reduced vibration, makes for heightened control of the device.
If there is one notable flaw of the FEIN MultiMaster 350QSL, it is its power cord, which forces you to make sure there is a plug socket nearby before you can get to work. Do you wish to know about other corded oscillating tools? read here.
Tutorial
Selling for more than $200, the FEIN MultiMaster 350QSL is one of the most expensive multi-tools on the market. For that reason, you should familiarize yourself with how it works before taking it out for a whirl and potentially breaking it. In the below video, you will see the 350QSL in action, so you'll know exactly what to expect when you take it out of the box.
Alternatives
If your woodworking business is still in its early stages, you probably don't have the room in your budget for the FEIN MultiMaster 350QSL. That's perfectly fine.
There are plenty of other professional-quality multi-tools out there that you can purchase for much less. The Porter-Cable PCE605K is an oscillating tool with a 3-amp motor and tool-free adjustment to streamline projects.

It also features a depth and cutting guide to give you the level of accuracy you need if you want to build your business by securing repeat clients.
Much like the FEIN MultiMaster 350QSL, this multi-tool comes packaged in a sturdy carrying case with sandpaper and a selection of blades. Unlike the FEIN MultiMaster 350QSL, however, it can be purchased for less than $100. Fein Master is a corded oscillating tool but other most amazing cordless oscillating tools are also available, click here to read.
Conclusion
While we strongly advise against purchasing the FEIN MultiMaster 350QSL if you are a hobbyist, we believe all experienced tradespeople have something to gain from adding this tool to their workshop.
With its unique StarLock mounting system, it more than halves the time spent switching between tools, while its ergonomic handle makes for more control and less discomfort.
While the FEIN MultiMaster 350QSL is quite a bit more expensive than the average multi-tool, it is very much an investment and will ensure the satisfaction of both you and your clients for years to come. Do you wish to know about other best corded oscillating tools? Read more