Table Saw vs Miter Saw: Which Makes the Cuts You Need?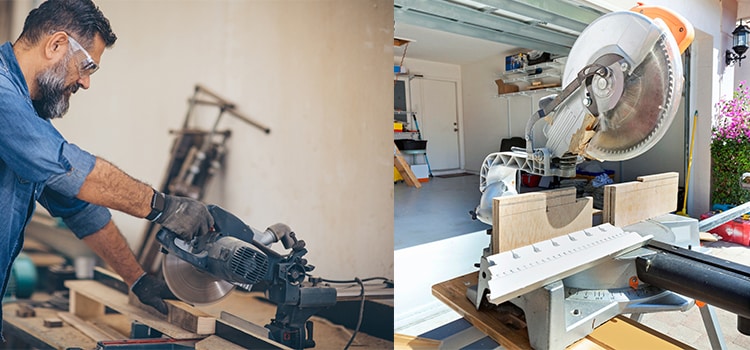 A carpenter, a contractor, or a woodworker's world of saws is vast and advanced. Can you imagine that, not that long ago, humans didn't ponder a table saw vs. miter saw, they only had hand saws to use for everything, including for building our own homes? Projects would take much longer to finish with the chance of inaccurate cuts.
Now we have so many saws to choose from that run on electricity to make cutting faster and easier. These power saws, as well as the extras like saw stands, dust collection tools, blade guards, and high-speed portable saws will save you time and plenty of headaches.
This guide is to inform you of the differences between a table saw and a miter saw. We'll learn what saw will work for what projects so you can make an informed decision on which saw you should purchase (or if you need both).
The Best Uses for a Table Saw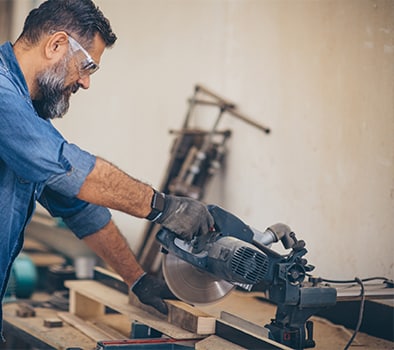 Table saws are the most popular of power saws. Everyone that works with wood should own a table saw since they're the most functional of the two saws. These saws can be used for various projects and cuts. Perhaps complicating things, there are various types of table saws.
Instead of bringing the wood to the saw, table saws bring the wood to it. This ensures an extremely precise cut and gives you absolute control of your work. They're so versatile, they can do both the cross cut and the rip cut.
A crosscut is when you're cutting against the grain to cut the wood in half. A rip cut is when you cut the wood with the grain. These are basic cuts but important to every woodworker or contractor.
3 Main Types of Table Saws
Benchtop: Benchtop table saws are the most affordable and the most portable of table saws. They are on the smaller side making it easy to go where a saw is needed. It doesn't rely on a stand for stability but instead, it relies on a bench top or table top. Hence, the name of the saw. The downside to the size of a bench top is that it's not capable of cutting larger materials. It makes it impossible to maneuver any large pieces of wood.
Jobsite saw: A jobsite saw is just as it sounds, a saw that can be transported to a jobsite. It's a step up from a bench top since it's packing power and even more precision when cutting wood. They come with tables but are usually made of lightweight steel so it can be packed up and moved to and from jobsites or projects as needed.
Cabinet saw: Cabinet saws come in, well, cabinets. They're very expensive and not portable at all. The portability of this saw is traded in for the vast amount of power and precision this saw has. A cabinet saw should be used only by advanced woodworkers. They are large and can be dangerous.  (If you are new to woodworking or concerned with safety – Sawstop is a high-end brand with a special safety mechanism that prevents any fingers being cut off when using the saw)
The Best Uses for a Miter Saw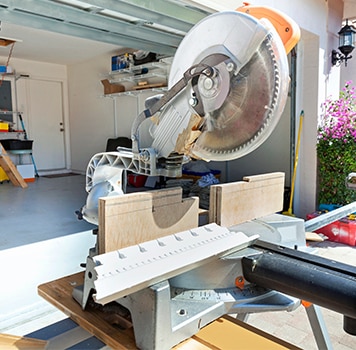 The one thing a table saw just can't be great at is precision angle cuts. This is where a miter saw comes in handy. There are miter gauges you can purchase for your table saw but it won't give you the accuracy you need like the real thing.
Miter saws don't include a table for stability. Like the benchtop table saw, you have to attach it to either your workbench/table or purchase a stand (which can make moving the saw very convenient).
The miter saw is attached to an oscillating swing arm that you can adjust to the perfect angle you need for your cut. You can turn the blade either to the right or to the left, unlike with a table saw. Most miter saw arms can be turned from about 45 degrees to about -45 degrees.
The blade's ability to tilt and move gives it an advantage over a table saw when your project consists of door frames or crown moldings. They're also perfect for intricate designs made from angled cuts.
The unfortunate part of using a miter saw is that you lack some of the control you get with a table saw. This is because you have to bring the blade to the wood or whatever you need to cut.
3 Types of Miter Saws
Standard miter saw: A standard miter saw is the very basic version of a miter saw. They're the cheapest of these saws as well as lightweight and portable. It gets the cut done quick and with accuracy but has no fancy features attached.
Compound miter saw: The compound miter saw is one level up from the standard miter saw. This saw is named after the compound cut, meaning a sloped cut. You can think of it as a 2-in-1 miter saw. If you want a compound cut, you can choose between two bevel options. These options are the single bevel which slopes in only one direction or the double bevel which can slope in two directions.
Sliding compound miter saw: A sliding compound miter saw is the advanced carpenter or woodworker's miter saw. These saws can get expensive. Every other miter saw has limited movement since the arm is on a fixed base. A sliding compound miter differs since the arm of this saw is attached to a sliding mechanism. This allows the arm and the blade to move inwards and outwards as well.
Conclusion: Table Saw vs Miter Saw
The biggest difference between table saws and miter saws are the types of cuts they allow you to accomplish. A table saw's cuts are straightforward—they cut horizontally or vertically. A miter saw allows you to cut at an angle that a table saw will struggle with.
When it comes down to the key project or projects and you need to compare buying a table saw vs a miter saw – the decision is based on the cuts you need.  If you are going to be cutting sheets of wood or lots of different cuts you should have a table saw.  If you are mostly going to be cutting boards like 2x4s and 1x6s or you need to cut angles then a miter saw will do the trick.  Eventually, as you become more versed in woodworking and tackle more complex projects, you'll want to invest in both saws for all your workshop.
We hope this article will guide you on your way to the right power saws!