Sliding Miter Saws: Finding the Best Compound Miter Saw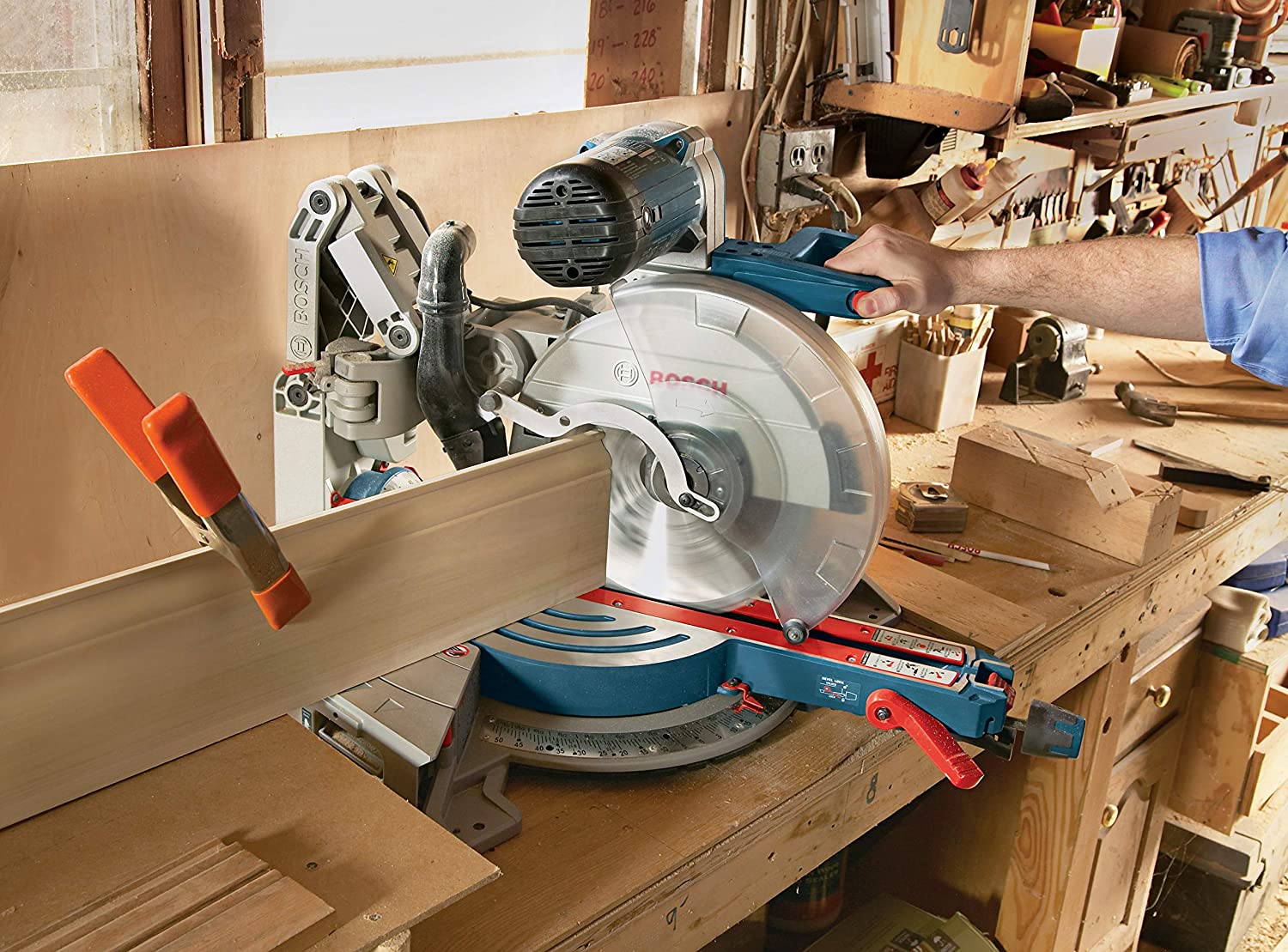 The best compound miter saw features a lot of unique benefits that allow you to cut more precisely. Some people may find stiff competition when it comes to looking for the best compound miter saw. We created this guide to narrow down your choices as we listed the best of them here. This is a list of the best compound miter saw.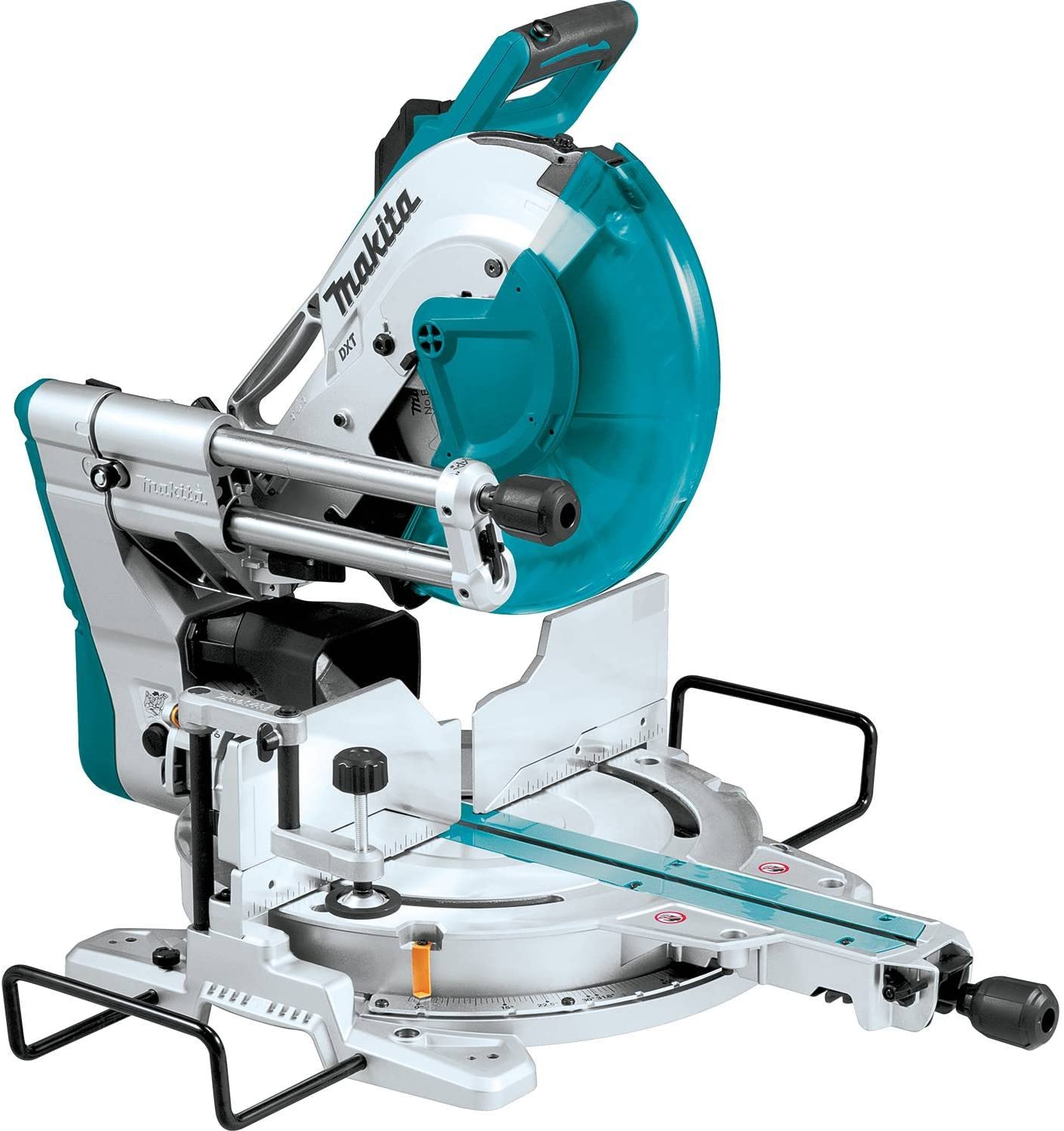 Makita is one of the more trusted brands when it comes to construction tools. This 12″ dual-beveling sliding compound miter saw boasts a special design of a 2-steel rail sliding system. It provides the user with a smooth single slide-glide operation. Thus, reducing saw footprint. It further comes with an in-front bevel lock for easy operation and an impressive dust collection port.
Pros:
Linear ball bearing system provides accurate cuts
Easy adjustment
Bevel-lock system
2-rail sliding system
Soft and smooth start-up
Dual dust collection ports
0-60° left and right miters
0-48° left and right bevels
15 AMP 3,200 RPM direct-drive motor and guard system increases vertical cutting capacity
Large-size aluminum base provides stability during operation
Cons:
Bulky for storage
Not quite portable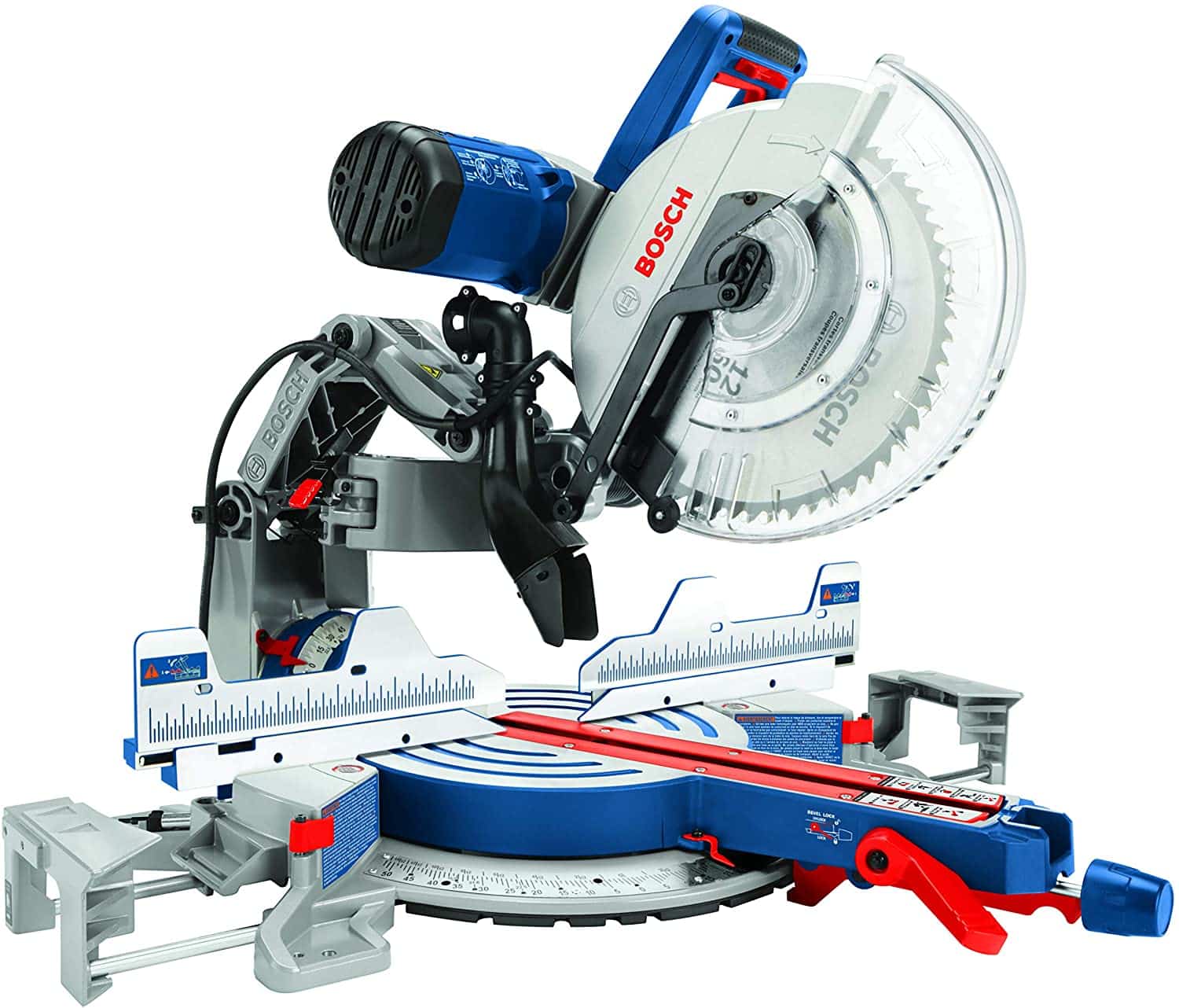 Gearing up 2nd on our best compound miter saw list is BOSCH's GCM12SD. It features an axial glide system that paves the way to wider crosscuts. It aligns better and saves you a good 12″ of work surface area. This miter saw also has easy adjustments with uniform bevels. The stainless steel miter scales have marked detentes as well as roof pitch angles.
Pros:
Expanded capacity
Fences have square lock quick release, which can lock fences 90°
1 touch lock/unlock for easy control
Bevel controls and range selector located up front for easy access
Ambidextrous handle
With dust chute and vacuum adaptor
52° left and 60° right miter capacity
47° left and right bevel capacity
Clear lower blade guard
Tip-resistant stable base
Cons:
Blade may wobble
Needs to be assembled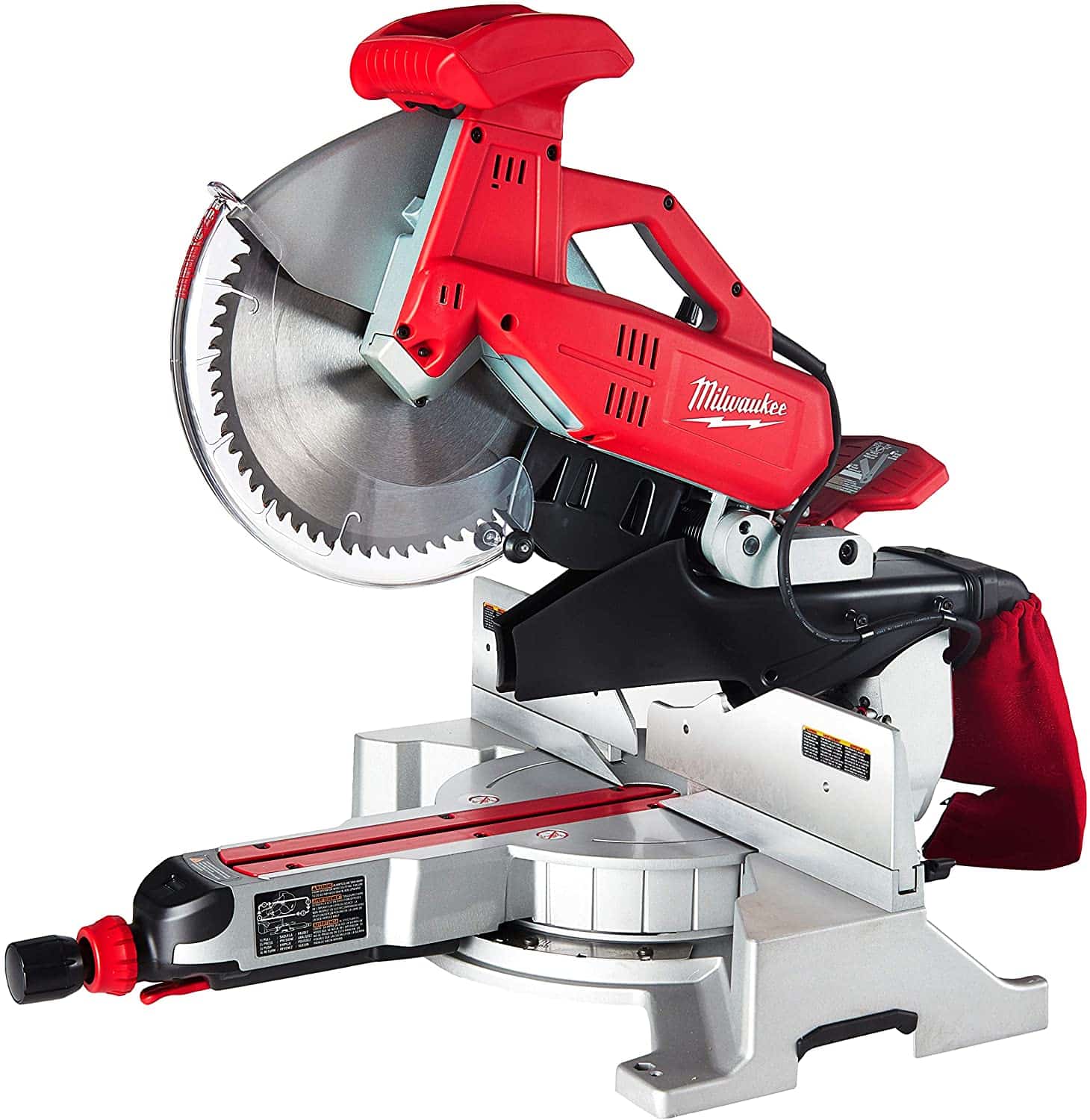 6955-20 is Milwaukee's first-ever sliding dual bevel miter saw in the 12″ category. That being said, they produced a great quality compound miter saw on the first try. While it is bulky to use, it weighs less compared to other miter saws on the market. It features a digital readout, which gives you a repeatable accuracy of 0.1°.
Pros:
Constant Power Technology
Bevel adjustments have two ways to lock
Lights integrated on the machine for illumination
15 AMP 3,300 RPM direct-drive motor for powerful and high performance
Integrated dust channels catch 75% of dust and other debris
Soft start system for greater control
5-year warranty
Cons:
Lights are hard to see when working in bright spaces or under direct sunlight
Doesn't come with a clamp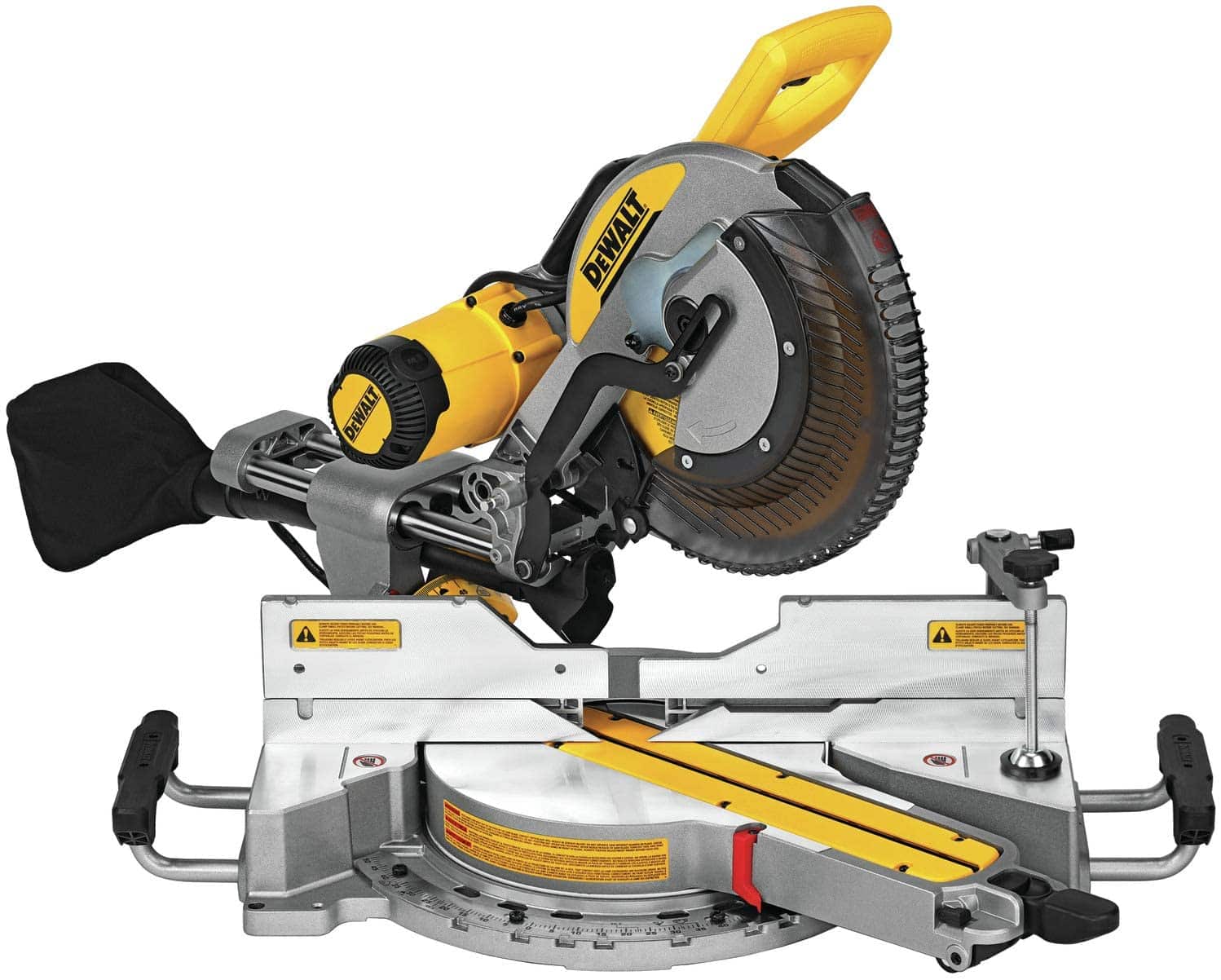 DEWALT DWS779's dominant 15 AMP 3,800 RPM motor produces powerful cuts and longevity. It features a cam lock miter handle with detent override, which provides you with fast and accurate angles. It also comes with a dust collection system that takes more than 75% of cutting debris.
Pros:
Lightweight at 56 lbs
Exclusive back fence design allows 90° cutting of 2×16 lumber, and 45° of 2×12
Adjustable mounting rails
Large bevel scale with positive stops
Innovative clamping mechanism and linear ball bearings
Bevels move 0° – 48° left and right
Stainless steel miter detent has 10 positive stops
Precise miter system and base fence for support and stability
Cons:
Limited 3 years warranty
Frequent emptying of the dust bag is necessary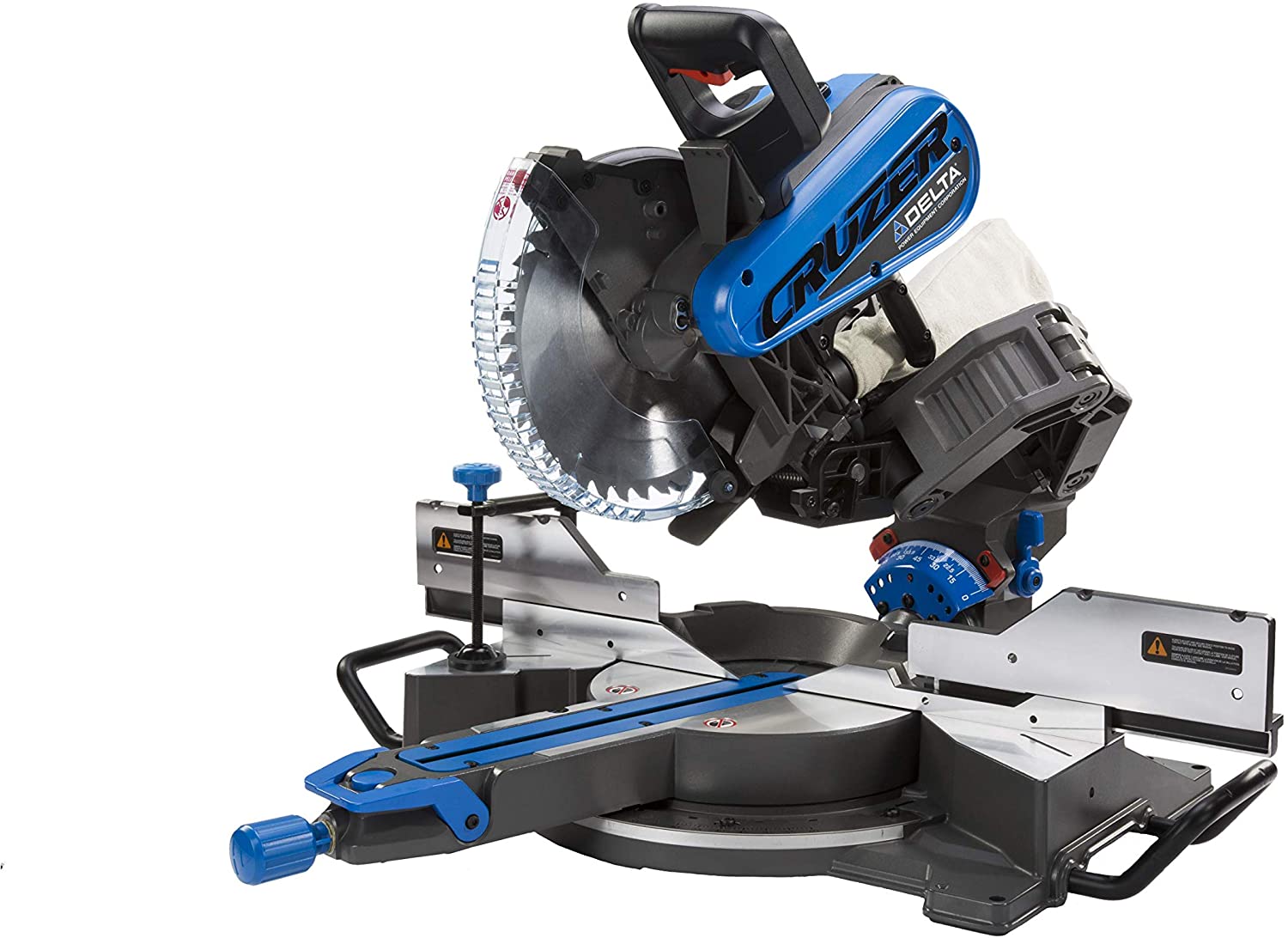 A sliding compound miter saw can be expensive, but one of the reasonably-priced picks that do not sacrifice performance is the Delta 26-2251. It features a military-grade aluminum frame and heavy-duty bearings to ensure durability and longevity over the years. Moreover, it is integrated with Delta's Shadowline LED cut alignment system. This displays an accurate cut line without the need for readjustments.
Pros:
Patented load arm support bracket made from military-grade aluminum
Cruzer angles 60° right and 50° left
10 positive stops marked at most common miter positions
Dual bevel moves 47° left and right and 7 positive stops
Adjustable cutting depth with clear retractable blade guard
Adjustable crown fence lock for increased stack capacity
15AMP 4,000 RPM motor
Weighs 57 lbs
Cons:
Dust collection mechanism isn't excellent
Things to Consider When Buying the Best Compound Miter Saw
Blade Size
The blade size is an important consideration when purchasing a miter saw. Smaller-sized blades tend to spin faster than bigger-sized blades. However, the larger the diameter blades are the longer and wider cuts they can make.
Miter and Bevel Angles
Most saws have miter angles up to 50° and bevel angles up to 45°. These maximum limits are not a problem in most cases since the most commonly used angles are 22.5°, 30°, and 45°. However, if you are working on a bigger project and need versatility in angles used, it is best to buy a miter saw with higher angle limits so that you can do whatever you want.
Weight
Weight is an important factor when choosing a miter saw. Heavy tools require too much of your strength, which results in a tired body. Also, heavy tools are hard to control due to their weight. They cannot be easily transported from one site to another. So, look for the best compound miter saw whose weight is comfortable for you to carry and work on.
Additional Features
Many additional features are unique to certain brands. The inclusion of built-in lights and lasers are added benefits that you can take into account. Also, efficient dust channels are important when considering a purchase. After all, you do not want to eat dust while working, right?