Kobalt Miter Saw Review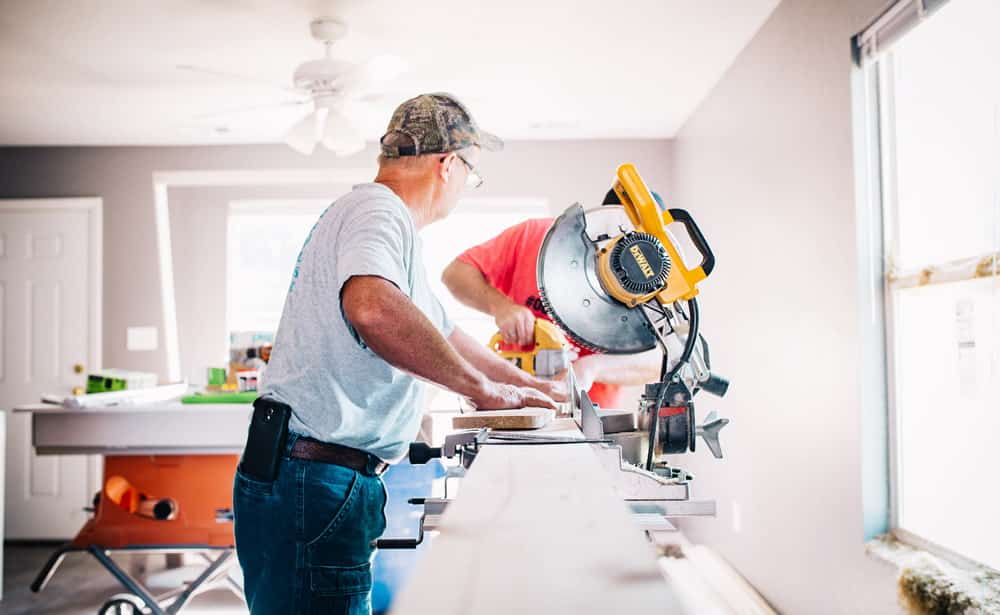 If you are the person who loves the craft of woodworking be it as a profession or hobby, having a miter saw is a must. They are a handy, versatile tool that makes many of your woodworking projects a breeze. It does not matter whether you are doing your work on a job site or in a shop at your home, if you have a major project on hand then chances are a miter saw is going to make it go faster and smoother. You do not need this type of saw for the small woodworking tasks unless you are doing something like picture frames but anything where you need lots of angle work done, this is the tool that you need to have in place. You'll never need to mess with one of those old miter boxes once you have one of these saws.
In the miter saw market, there is no shortage of competitors. While you can not assume every miter saw will be perfect for every woodworker, this particular Kobalt saw is a nice solid choice that probably meets most people's woodworking needs. It's an all-around good quality product that will not break the bank. It will cut accurate miter and bevel cuts with little effort on the user's part.
This Kobalt miter saw has all the features needed by tradespeople but it is great for those who are do it yourselfers and enjoy their home woodworking. This product is a powerful saw that is great for all types of projects whether they are straight forward or complex. It hits the perfect price point offering a good product for a reasonable price.
Details of a Sliding Compound Miter Saw
A sliding compound miter saw gives woodworkers a way to create miter and bevel cuts with ease. Miter cuts are the cuts that you make when you are working on something that needs to join at a corner. A good example of this is crown molding or baseboards. You cut 2 pieces, both usually at a 45°angle and then they can be put together in a corner at a 90° angle. Using this particular type of Kobalt saw allows you to do these miter cuts easily by turning the base of the saw rather than trying to angle the wood pieces.
The second cut that you can do with this saw is called a bevel. It is a double (dual) or single bevel that will be done. This particular cut is completed on an angle by putting the saw blade on a tilt. These cuts can be done with the maximum range of 45-50 degrees. This bevel cut can be used to join two pieces of wood making them look like one. They can overlap.
Along with these two different cuts, this type saw is able to have its blade and motor move back and forth on rails. This type of design means that the woodworker is able to cross-cut wood pieces to a maximum 12 inches wide. There is also an ability to have it tilt left and right and also turn downward so the saw user is able to accomplish wider cuts than would be normally possible with a hand saw or chop saw.
Can the Kobalt Miter Saw Get the Job Done?
Some of the things that should be considered when you are purchasing a sliding compound miter saw. Certain details that will help cement your decision should you be wavering in what you think is the best investment for you. Kobalt is a solid choice in these aspects.
Blades – Your miter saw blade will set how deep or how tall the cut of the saw will be. This particular Kobalt is 7 ¼". You can choose different blades for this saw depending on what material you are working on. While the Kobalt is great for woodworking, it can also be used for PVC, aluminum and even possibly steel. While you are going to want to work on heavy steel, light material is fine. You will need to make sure you have the appropriate blade on when you change material from wood to metal. Different teeth numbers and space affect the cut on a material.
Miter – This is crucial to your woodworking and is an integral part of this Kobalt saw. As mentioned earlier, a miter is a cut that is angled. This is why the saw is named what it is. It is these miter angles and the ease of cutting them that make projects go quickly and efficiently. Many of the angles are pre-set on the saw so you can just cut and go. Pre-sets are also helpful as repeated cuts will be accurate. They will all be the same since there is no need to change any settings. These miter cuts are not easily done if you are using a hand saw and miter box. Although this is how it was done before power tools, the miter box will not be as accurate as the Kobalt with its pre-set settings.
Slide – This Kobalt miter saw has a sliding action which means it's easy for you as a user to cut wood pieces deeper. The Kobalt can handle fairly deep cuts thus offering a good range of work it can do.
Bevel/Compound – The saw head is another good feature that the Kobalt brings to the table. Its saw head can move both left and right and additionally, it can turn on the saws table itself. Using a saw like this helps with doing angle work as the wood pieces do not have to be rotated since the blade and table do the work. It gives the user the ability to complete complex cuts on angles.
The Kobalt 7 -1/4" sliding compound miter has a lot of pros going for it when it comes to angled woodworking. Its motor is powerful and consistent while running at 4800 RPM. It does not bog down when you are cutting and can actually cut beyond what its specifications show. The saw will take 10" blades for molding and framing cuts which are helpful with its maximum crosscut going up to 2"x 8". It has a 00-500 right and left miter range with a sliding fence that is a good size. When it comes to miter and bevel stops, it has precise placement for the angles that are most commonly used.
This Kobalt has a spindle lock for fast and simple easy blade changes along with cord wrap hooks to so you can always keep the workplace neat and safe from tripping hazards when the saw is not in use. It has the great feature that it has is a vertically mounted laser guide that projects your cutting line before you start. A laser guide will give you alignment that is accurate. Not every miter saw come with that. It also has a 2 ½" dust collection port and quick release extension wings. A large wing knob on the locks on the back is great for locking the settings for the bevel tilt. They also have pre-sets for 33.9 and 45 degrees as well.
One of the great things about this saw is that it is lightweight at only 36lbs and has a set of the top-mounted carrying handle. Its body is compact die-cast aluminum which makes it really easy to move whether it's being used on a job site or simply needs to be put away. Its dual slide rail system has a linear bearing that makes sure you will have a smooth and precise ability to move the blade as needed. It has pulled out extensions that make its table bigger by expanding both left and right. This extended table means you will be able to work with longer pieces.
While this Kobalt miter saw comes with lots of pros, there are a few cons that have to be addressed as well. There is some concern about the accuracy of the laser line up. Make sure you check the accuracy before you use it. A little bit of practice before using it on a major project may help to see if you need to make any adjustments. There is also some issue with the sawdust catch bag. It doesn't seem to always do the best job in stopping the outflow of dust. This is another item you may want to work on by adding a shop vac dust collector. But overall the Pros strongly outweigh the cons.
This Kobalt saw is a great addition to your woodworking shop and comes with a 3-year limited warranty to cover any manufacturing issues that may crop up. Kobalt's customer service is quick to reply and happy to help with whatever they can.
Kobalt 7-1/4-in Sliding Compound Miter Saw
Maximum crosscut up to 2-in x 8-in; ideal capacity for moulding and framing cuts
Light weight due to compact die-cast aluminum construction-easy to move from storage to jobsite
Vertically mounted laser guide projects accurate pre-cutting line for precise alignment
Positive miter and bevel stops for accurate placement of most used angles
Dual slide rail system with linear bearings allows for smooth and accurate operation
Accessories
With the purchase of a Kobalt miter saw you may want to purchase some accessories to make your work even easier. There is always a need to have extra blades on hand so if one is no longer usable you can simply replace it without having to place a last-minute order or go to your local hardware store. You should make sure to have blades on hand​ that not only cut wood but any other material that you might use the saw for.
Sale
CRAFTSMAN 10-Inch Miter Saw Blade, Combo Pack (CMAS210CMB)
DURABILITY: Induction-brazed carbide tips of 10-inch miter saw blade are made for durability and long life
NO MORE WARPING: Heat-treated plate eliminates warping
ACCURATE CUTS: Precision ground teeth for smooth, accurate cuts
CORROSION RESISTANT: Corrosion resistant coating designed to prevent rust
Along with blades, a good miter saw stand is my number one accessory. It's beneficial if you are going to job sites or just don't want to get on the floor to make cuts. While the Kobalt saw is light, you still need somewhere to put it and having it raised on a stand can help with accuracy, and it will save you from having to bend over repeatedly to do your cutting. There are lots of stands on the market but finding a lightweight one that is sturdy is helpful for transporting as well as storing.
BORA Portamate PM-4000 - Heavy Duty Folding Miter Saw Stand with Quick Attach Tool Mounting Bars Orange 44 x 10 x 6.5 inches
A cut above - The Bora Portamate PM-4000 is the best, most practical, hassle-free stand you'll find for miter saws or chop saws. Constructed of tubular steel with a powder-coated finish, This rugged yet lightweight saw stand can support up to 500 lbs. And is compatible with Miter saws up to 12 inches, including compound sliding saws.
Cut out for convenience - setup is quick and simple, as the folding legs swing Under the center portion and are secured by pins that snap into position. Stand folds up for easy transport, storage and carrying from your vehicle to the worksite. Folded size is 43. 5" W x 20" D x 6. 5" H and Weighs only 30 lbs. Without a saw.
Switch gears & mount add tools - quick-attach saw mounts allow for easy mounting of your saw, as well as other tools which you can switch around, set up and take down quickly – hardware is included. Additional mount sets sold separately offer a wider variety of tools that you can use with your PM-4000 stand.
Makes the cut – our PM-4000 saw stand was specially designed to provide the ideal ergonomic working height of 36 inches, so professional contractors and day's can work safely and comfortably while making cuts with absolute precision and secure stability.
Along with these extras, you should also consider things such as dust masks and eyewear for your personal safety. While dust collection systems with saws such as the Kobalt can be used, that does not mean they will capture all the particles. Dust masks are important simply because they can catch the trace particles that are missed by the dust control systems. This is especially true when you are working with the saw in an enclosed space. Along with a dust mask, you should be protecting your eyes. While the Kobalt has a guard over the blade, that does not mean that pieces can not escape. A good set of protective eyewear can be a great safety item as well. Many people where their regular eyewear but you need a set of safety ones overtop. Regular eyewear can shatter and cause more damage so to make sure whatever safety glasses your chose can fit over any existing eyewear you need to have on.
MAGID Gemstone Y50 Performance Anti-Fog Safety Glasses with Side Shields, Blue Light Blocking Lens, Scratch-Resistant Polycarbonate Lenses, 1 Pair
Classic Design that Performs: These black-frame safety glasses have a classic style that will encourage wear, promoting compliance and safety.
Side Shields: Clear side shields provide preserve peripheral vision while adding a layer of protection against splashes and debris; Side shields are permanent.
Wiper Case Included: Glasses are sold with a wiper case to make it easy to keep the glasses clean and smudge-free; Glasses are packed one pair per wiper case.
Scratch-Resistant Polycarbonate Lenses: Clear, polycarbonate lenses meet ANSI Z87.1 2015 high impact standard and are scratch-resistant. Clear Blue light blocking lenses won't distort colors or impair vision.
Lightweight Nylon Frame: Lightweight frame is comfortable to wear, promoting worker compliance; The frames come with soft grey temple pads installed for comfort.
Final Thoughts
Woodworking is a great craft that requires reliable tools. Whether you are a tradesman that specializes in woodworking or someone that has decided to take on some home projects having a good range of woodworking equipment is important. One of those tools that should be in your tool collection is a good quality sliding compound miter saw. Often this type of saw is generally costly, Kobalt offers a miter saw that is good quality at a reasonable price. Having a saw like this will not only help to make any woodworking job simpler to complete but much more accurate than the old school way of measuring with a miter box. You will end up with a finished project that is not only done with precision but looks professional and neat. You can put the old miter box on the shelf as a shop decoration.
This Kobalt saw is accurate, fast and simple to use. Pre-sets allow repetitive cuts that will get your project moving and underway. Whether you are working with wood, aluminum or light metals, this saw should offer good work with little effort. The Kobalt miter saw will not cost you a fortune and will make your woodworking experience positive which will have you looking forward to starting your next project.