DeWALT D26677 Review: Is It Worth The Price?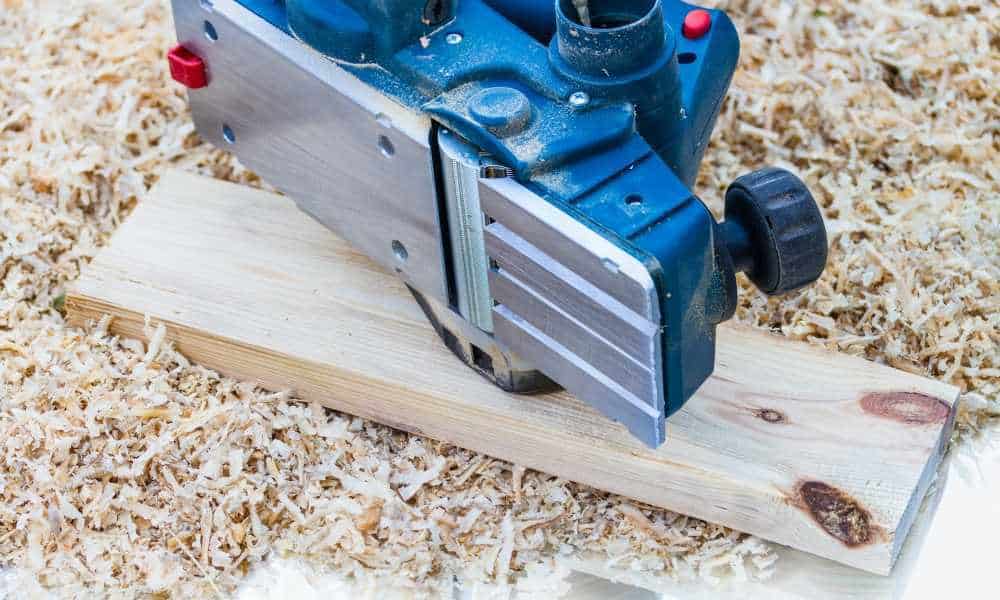 Dewalt D26677k Wood Planer: QUICK OVERVIEW
If you're a fan of woodworking projects, then you're going to know the frustrations that come with cutting boards and achieving a custom thickness perfect for your project.
Most suppliers wouldn't even dare to give you all the customized wood you need. Thus, you're going to have to use a table saw and cut your boards yourself and then clean the edges, but this could take way too much time.
By purchasing a wood Planer, you'll be able to complete these tasks in a matter of no time, especially when compared to using a jointer or hiring another business to custom cut your wood board for you.
Dewalt D26677k Wood Planer Review
The DeWalt hand Planer is a portable kit which allows you to quickly and easily complete those wood work projects in a matter of no time. You can accurately and quickly remove material of up to 1/16th an inch, and the newest DeWalt model can go up to 34,00 cuts per minute. This makes woodworking a breeze.
The DeWalt Planer removes material efficiently and quickly with the fine tuning depth adjustment knob. It allows you to control the material removed and can cut through the hardest of materials.
Who is this product for?
Whether you're a shopkeeper, a woodworker, or a construction worker, the DeWalt is ideal for people who are looking for a faster and more efficient way to trim off excess materials from their wood boards.
This kit is ideal for those who would like a portable kit, making it easy to transport and use on multiple projects. This is especially useful if you own a business or happen to have projects in multiple locations which you can't move.
If you want to learn more about hand planers you can check out this link
What's included?
When you purchase the DeWalt D6677k, you'll receive the wood planer equipment, two reversible carbide blades, a rabbeting fence, dust adaptor, blade depth setting gage, a kit box, and a socket wrench. These items all come in the kit and are packed to be easy to use and transport.
Overview of features
The D26677k is a 1/4th-inch portable hand Planer kit which comes with all the necessary equipment you would need to trim and buff wood boards. It has a powerful and durable 5.5 amp motor that creates a smooth even finish on the hardest of wood boards.
It can produce up to 34,000 cuts per minute, making it have one of the fastest removal rates on the market. It includes reversible carbide blades to help improve the blade lifespan and give a material finish. The adjustment knob can be calibrated to 1.5mm.

The precision machined back, and front aluminum shoes ensure that the unit cuts parallel. There is a built-in kickstand which allows you to rest the Planer on your work surface without it accidentally going off or gouging your materials.
It has a precision machined groove located in the front that allows for edge chamfering. The poly-V drive belt can help increase the durability and longevity of the unit. The handle is ergonomically designed to give you comfort and allow you to hold it for longer periods of time.
Check out what is the best wood planer here
How to use
To use the DeWalt D6677k, simply adjust the settings to your liking and place the board down on your workstation. Make sure to measure exactly how thick or thin you want your board to be, and then adjust the settings and connect the DeWalt to the board.
This will ensure that you get an even cut every time. Next, cut alongside the edges of the board. Once you're done, you can rest the device on your workstation with the kickstand.
learn more on how to clean planer rollers
Alternatives
If you're not satisfied with this wood Planer, we can recommend another one to you. The WEN 6530 model is an excellent alternative to the DeWalt D6677k. The WEN model has a powerful 6 amp motor which can cut up to 34,000 cuts per minute. It has 16 positive stops which adjust the cutting depth to up to 0-1/8th inch thick.
You can create rabbets of up to 7/10 inches, and the machine comes with a rabbeting guide. It's lightweight and is only 6 pounds, making it easy to handle and hold. When you purchase the WEN, you will get a power Planer, kickstand, dust bag, a parallel fence bracket, and a warranty.
If you like it you for sure would like benchtop planers you can read more here
Conclusion
As you can see, the DeWalt is an efficient and fast way to trim your woodwork projects into customized wood boards. The kit comes with every item you would need to get the job done efficiently.
It's also designed to be portable, meaning you can take all of your equipment to every job. This is extremely useful for business owners who have to attend to clients and personal projects. Whether you need a kit or just an easy to use wood Planer, the DeWalt is one of our top picks when it comes to wood Planer kits you can find online.