Wood Planers for Sale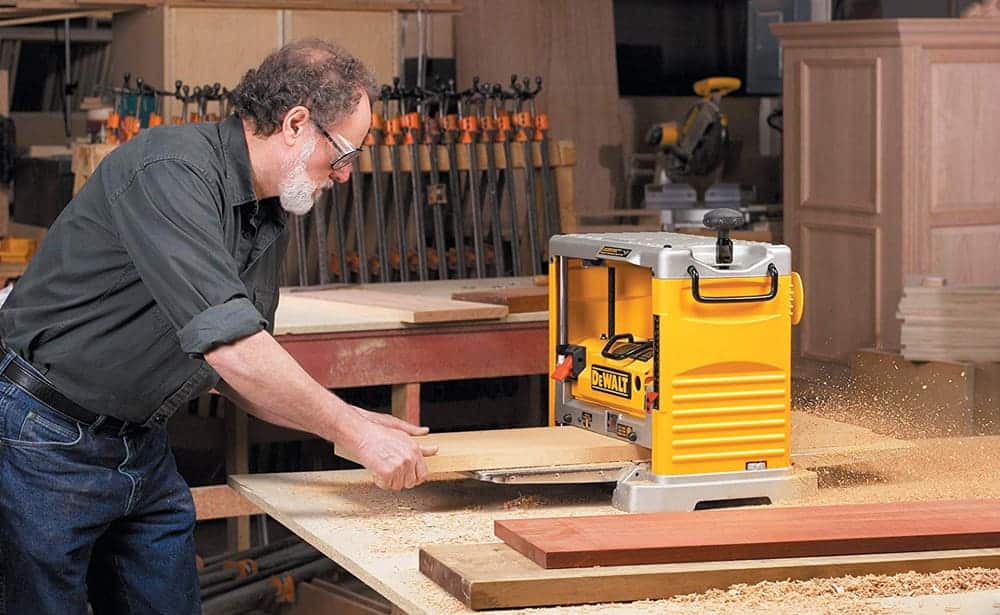 Woodworking can be a very satisfying job whether you are doing it for a living, as a hobby or just as someone who likes to do their own woodworking tasks around the house. To do woodworking well, you need to have quality tools that are right for the job. Finding these tools is not always simple. Product descriptions written by the company and stores are obviously going to highlight the tools selling points while not always giving you the full picture of what you are about to buy. The price range does not always signal the quality either. Just because something costs a lot of money does not mean you are getting the best planer. So do your research, read reviews and then assess what works for you. There are lots of wood planers for sale but make sure you are getting what you need.
The Basics of Wood Planers
A wood Planer is a great woodworking tool that is used to give boards even thickness across their length and width, making sure they are completely flat on both sides. Wood planers are not cheap to purchase and should be considered a long term investment for your woodworking projects. A planer will allow you to buy rough wood stock and then create the dimensions you want or need for a particular job. A Planer is a great way to make custom material on your own.
When many people think of a wood planer, they are thinking of the old traditional handheld ones. Hand planers are used to trim wood and smooth out smaller surfaces. However, their use in big projects is difficult since there is no way to make sure the wood being planed has a consistent thickness. Thickness planers, on the other hand, allow you to set a blade at the desired height and then shave off anything that is above it as it goes through the machine. The uniformity of the finished product is much more acceptable than what can be accomplished with a hand Planer. Benchtop wood planers are great for those people who are not looking to spend thousands on big stationary planers but need to do substantial woodwork.
These modern version power planers have a planning platform that allows for fast and precise thickness modifications and is controlled manually or through the electronics. They let you set the deepness of the cut by moving the cutter head or planing platform and then you simply turn it on and go to work. The board is fed into the machine by an in-feed roller to be moved under the quickly rotating blades of the cutter drum. The out-feed roller moves the wood out the other side as the blades do their work. This achieves a smooth finish on the wood and a constant even decrease in thickness over the whole board.
If you need to have irregular pieces of wood leveled into a standard thickness, then you are looking to buy the correct tool. It allows for beveling, flattening, and reclaiming old wood so can work for many different woodworking projects. These planers are handy tools but make sure you are trained to use them before you buy. You can end up costing yourself a lot of extra time and money if the Planer you buy is not used correctly. When you are looking for wood planers that are for sale, make sure it comes with a full explanation of the planers' operational aspects and then give yourself time to practice once you have bought it. When you have the hang of how to get consistent planning results then you can get to work on your projects.
What Wood Planers are for Sale?
There are many wood planers for sale. So, if you have done your research, have a budget in mind and know the basics of what you are looking for, you can start your search. Here are some wood planers that are for sale and offer a high-quality product:
DeWalt always produces top of the line tools. If you are looking for wood planers that are for sale, this one is certainly a good choice. It comes with a strong 15 Amp 20000 RPM motor that has a two-speed gearbox, so you are able to change the feed speed and offer a dimensioning or finishing cut at 96 or 179 CPI. Its 10000 RPM cutter head speed can handle large cuts in wider wood very easily. This means it a versatile Planer and one of the best for sale in the market. It has a three-knife cutter head which means there is reduced stress on each individual knife allowing for a finer finish. It also means that these knives will have a 30% longer life span.
This particular Planer has a wide base that allows for work on wider and longer pieces of wood. This is unusual when compared to many other planers that are for sale. It has a fan-assisted chip ejection vacuum, so it removes the chips from the cutter head and gets them out of the machine. It has a max depth cut of 1/8", depth at 6" and width capacity of 13". This Planer also has infeed and outfeed tables and comes with an extra set of knives. Its drop feed rate is 14' per minute. While no planers are quiet, this one runs at a lower noise level than most. It's defined as a stationary unit but can be moved if needed. However, it does tip the scales at over 100 pounds so while you do not have to mount it to the floor, you also do not want to have to move it a lot. The weight helps it do the job it is supposed to and if it was any lighter you would not attain the quality that it currently offers.
Sale
DEWALT Thickness Planer, Two Speed, 13-inch, 15 Amp, 20,000 RPM Motor (DW735X)
Purchase includes one stationary 13" Planer, in/out feed tables with fasteners (attached to the base of the Planer base), extra blades and dust hose adapter. Stand is not included.
Three knife cutter head of the thickness planer delivers 30% longer knife life and makes knife change faster and easier
Two-speed gear box of the wood planer allows users to change feed speed to optimizing cuts per inch at 96 or 179 CPI
Fan-assisted chip ejection vacuums chip off of the cutter head and exhausts them out of the machine
19-3/4-inch cast aluminum base is 2 times more rigid than a standard 10-inch base and folding tables
A second great wood Planer you will find for sale is another one by DeWalt. This one is a little lighter coming in at 80 pounds and offers one speed instead of two. However, you can save a lot of money in buying this particular model if you only require one speed for your projects. The motor is a strong 15Amp, 20000 RPM that can manage larger and deeper cuts in wood. This model offers 96 cuts per inch an even, smooth finish. It has a three-knife cutter head with 10000 RPMs meaning the knives last up to 30% longer since the stress on them is less. The knives are disposable and reversible and are easy to change quickly with one tool. There is a set of pins on the cutter head that go through holes in the knives. You can pick a fresh knife and simply refasten with the knife clamp. No-fuss or muss.
This wood planer's four-column carriage lock significantly reduces movement that can cause material damage and snipe when you are working close to the end of a board. It has an extendable, wide base with extra-long infeed and out-feed tables that let the user work with larger pieces of wood when compared to what most other planers can handle. It gives 33 ½" of material support. This Planer has a dust hood that can attach to a shop vac or standing dust collector to make it easy to keep the work area free of chips and debris. It has a turret depth stop which will save you some time when you are setting the Planer at depths you regularly use. In addition to all this, the planer's material removal gauge and extra thickness scale make sure that every piece is done is completed accurately. It has a cut depth of 1/8", depth capacity of 6" and width capacity of 12 1/2". This Planer is fairly quiet in comparison to many of its competitors on the market. It is considered portable even though it is still quite heavy at 80 pounds.
Sale
DEWALT Benchtop Planer, 15-Amp, 12-1/2-Inch, 3-Knife Cutter, 20,000 RPM, Corded (DW734)
Powerful 15 amp, 20,000 rpm motor of the woodworking planer handles larger, deeper cuts in hardwoods.
Three-knife cutter head with 10,000 rpm cutter-head speed of the thickness planer provides 96 cuts per inch, one of the finest finishes of any portable planer
Disposable, reversible knives of the wood planer deliver 30% more knife life and make knife change fast and easy.
Four-column carriage lock drastically reduces the movement that causes snipe
Extra-long infeed and outfeed tables provide 33-1/2-inch of material support.
This WEN Planer is another one for sale that is a great option if you are looking to buy. Its 15 Amp motor can do 25500 cuts per minute which are quite speedy. It has a fast feed rate of 26 feet per minute making it one of the faster planers around. This product is a great purchase if you have a lot of raw stock that you need to work your way through. The tri roller feeding system helps to minimize snipe and its three-blade cutter has a long life and can be reversed to double that length.
This Planer has great fine-tunable depth adjustments as well with a rubber grip adjustment handle. Each ¼ rotation adjusts the height by 1/64 of an inch for maximum precision. You can alter the cut by as little as 1/64th of an inch allowing you to have significant precision. It has an onboard material removal gauge letting you know the cutting depth of each pass of wood. It planes boards up to 6" thick and 13" wide and has foldable infeed and outfeed tables to support these longer pieces. Another great selling feature of this WEN Planer is its price. It is for sale at a substantially lower price than many of the other quality models it competes against. It's one issue is the dust collecting but when you add in a great price and quality product, it's a good buy when you find one for sale.
WEN 6552T 13 in. 15 Amp 3-Blade Benchtop Corded Thickness Planer
Onboard material removal gauge informs users about the cutting depth of each pass
Plane boards up to 6 in. T and 13 in. W
15 Amp motor generates 25,500 cuts per minute at a 26 ft. per minute feed rate
3-blade design makes easy work out of even the hardest of woods
Fan-assisted dust port removes sawdust from workpiece
Makita never fails to impress with the tools that they have available for sale. This Planer lives up to its high-quality standards with a 15 Amp motor with a no-load speed of 8500 RPM. This Planer is a little more compact than most which make it somewhat portable at just over 60 pounds of weight. It is fairly quiet at 84 decibels of noise, for a Planer at least, and comes with table extensions that are a good size meaning you can plane large lumber in a safer capacity. It is designed to make blade changes fast and easy when you need to and uses Makita's exclusive Interna-Lok automated head clamp to stop snipe. This tool will make sure the end wood product will be just what you wanted for your project.
This planer's 4 post design and diagonal cross support help immensely with stability. There is a depth stop for repeated cuts and an LED light to signify the power is on. One of its other big selling points is that it is a fast Planer. It can do an amazing 28 feet per minute with a cutting depth that is easy to adjust for precision planning with its max thickness being 6 2/32". It comes with a detachable toolbox which is great if you need to store your equipment on various job sites or until the next job. It's a little on the pricier side overall but really is a quality Planer that gets through your projects in no time.
Makita 2012NB 12" Portable Planer
Compact with less weight for easy transporting to the jobsite
Engineered for faster, easier blade changes
Low noise (83dB) for operator comfort
4-post design and diagonal cross supports for stability
Large table extensions to support the workpiece
Final Thoughts
You will find many wood planers for sale once you start actively ​​looking to buy. To decide which one will best meet your needs means you will have to do some research, read some valid reviews, assess your budget and project. Then go through the various planers to understand their pros and cons along with what they have to offer. These particular woodworking tools are not cheap to buy so you want to make sure the one you choose is suitable for not only your woodworking needs but that it suits your budget. Take into consideration that they will save you some money by allowing you to buy a raw product and work it yourself so you are not paying out money for already processed wood or the extra fees that may accompany this process. If you have space to have a Planer and the ability to use it, then this purchase will be a great addition to your woodworking repertoire.