Best Detail Sander That Can Improve Your Project Quality Considerably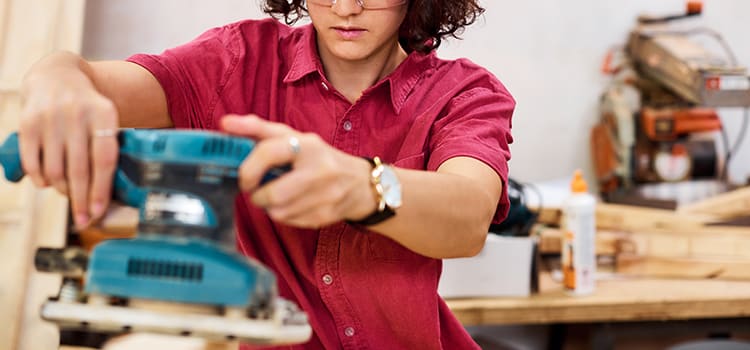 It's always important to use the right tool for the job. However, it can be a little confusing when there are so many sanders on the market. The palm sander, the belt sander, the mouse detail sander, and power sanders, the sheet sander, and, of course, the detail sander with variable speed to ensure a smooth finish time and again.
When it comes to detail sanders, there are some really amazing products out there that can really get into those hard-to-reach places and do what would otherwise be impossible.
Whether you're looking for a most wanted sander or something extremely versatile with a lot of attachment, you're in the right place.
We found five of the best detail sanders available to help you find the one that best suits your needs. Before we get to those, let's take a look at some of the main things to keep in mind when shopping for a detail sander.
Corded versus Cordless. This is an age-old debate when it comes to most power tools. While corded tools are reliable and never run out of power, cordless tools are endlessly portable and easier to maneuver because there's no cord to work around.
Some of these sanders include simple attachments that get into small spaces or contour to rounded or square edges. Whether or not you need that kind of versatility depends on the project at hand.
Dust collection. Most of these products have onboard dust collection that vacuums the debris into a small collection canister as you work. Some can also be attached to a vacuum system for even more power.
Grip. Some of these sanders that have a simple palm grip while others give you two or even three options so you can adapt even more so to the job.
Below you will find some of the best detail sanders available along with a couple of honorable mentions we have included at the bottom. However, if interested, you can also find another most wanted orbital sander on the market as well.
Our top pick for detail sander is the WEN 6301. One of the best things about it is its shape. The angled tip really lets you get into tight corners and small spaces so you can finish every last nook and cranny. The lightweight design is easy to maneuver, and the handle is just the right size to fit comfortably into the palm of your hand.
This sander features a dust port that can attach to a collection bag or vacuum system, and the fan-assisted dust slots on the baseplate make sure that you'll catch as much of the mess as possible.
Attaching paper to this sander is really simple, too. It uses a simple hook-and-loop system for fast removal and installation. It's covered with a 1-year warranty and a nationwide of technicians to help in case anything goes wrong.
If you're looking for a cordless sander, check out the Black+Decker BDCMS20C Mouse Detail Sander. It gives you the maneuverability and convenience you look for in a cordless tool without sacrificing power or performance. This sander boasts 12,0000 orbits per minute for quick finishing and detail work.
This compact, ergonomic design features a two-position grip so you can use it one-handed if necessary. The angled baseplate can get into tight spaces and corners, and, for even harder-to-reach areas, it also includes a detail finger attachment.
The Mouse comes complete with an effective dust collection system that helps keep the work surface clean as you work, and when it's time for new paper, just use the simple and hook and loop system for fast and easy changes. They even include some sandpaper for both the baseplate and detail attachment so you can get started on your projects right away.
Another great option from Black+Decker is the BDEMS600. It's similar to the BDCMS20C that we reviewed above but has a lot of great features that set it apart. The baseplate and detail finger attachment are the same, but that's where the similarities end.
Thanks to the powerful 1.2-amp motor, this sander delivers 14,000 orbits per minute. It features a three-way grip for maximum versatility that's comfortable whether you're using it horizontally or vertically. Use palm grip for flat surfaces, precision grip when you need a lot of maneuverability, and handle grip when it's time to get into those super tight spots.
A high-performance dust collector system includes microfiltration and a see-through collection canister that will help you know when it's full. It includes one sanding pad and is covered with a 2-year warranty.
A great cordless detail sander option from another brand is this one from Porter-Cable. The variable speed setting lets you adjust from 9,000 to 11,000 orbit per minute so you can use the right speed for the task at hand. It has a low profile, a rubberized grip that makes it easy to control and maneuver into tight spaces.
The dust collection system on this one is pretty impressive. The vacuum port hooks up to any 1 ¼" hose, or you just use the included collection bag and empty it as you go along. Just in case anything escapes, there's also a dust-proof switch to protect the internal components and extend the life of the tool.
This is a bare tool, which means the battery will need to be purchased separately. It does, however, include the dust collection bag, sandpaper, and replacement sanding tips as well as a 3-year limited warranty.
The SKIL 7302-02 is a really awesome piece of equipment and the most versatile tool we included in our reviews. This tool comes with eight different detailing attachments that let you sand just about anything.
They include an L-shape piece for 90-degree edges, a curved attachment for round material, and a detail finger extension to get into really small spaces. Plus, changing from one attachment to another is fast and easy.
The dust collection system uses microfiltration to capture and contain even the finest dust particles, and the clear view canister lets you know when it's time to empty the container. And that's not all! It also has unique pressure control technology that monitors the pressure being applied to make sure you get the best finish possible.
This sander comes with eight detail attachments, 32 sheets of sandpaper, and a carrying bag to keep everything organized. It's also covered by a 1-year warranty.
Now, let's move onto discussing a couple of our honorable mentions. These two detail sanders are also great options to consider when it is time to upgrade your workshop in 2020. The two options listed below are more multi-functional and 2-in-1 options.
This multi-purpose oscillating tool and accessory kit with storage box is known as the Genesis GMT15A. It can be used for all home repairs and restoration projects you may have. With 21,000 oscillations per minute, this power tool provides you with fast sanding, grinding, cutting, and scraping.
It also features a 4-pin flange design that can hold all of its accessories in place, and the sturdy die-cast aluminum gear housing is durable. This multi-purpose oscillating tool comes with a 3-inch Delta sanding pad, sandpaper, a scraping blade, a 30 mm E-cut saw blade, HSS segment saw blade, and Allen wrench.
Due to its high speed, this detail sander allows for both quick and accurate work, which is why it has made our list of the best detail sander to improve your projects. When it comes to cons, there really aren't any to report.
However, if you have to find something wrong with this sanding tool, the control switches are reportedly a little bit flimsy which can ultimately cause you problems later on, according to other sander reviews.
Overall, this detail sander is versatile, has a great motor, and durable aluminum housing. However, you should also keep in mind that it is not optimized exclusively for sanding. It is a multi-functional power tool.
This VonHaus Sheet and Detail Sander is a high-performance sander with both triangular and square sanding options. This makes it the ideal option for a variety of sanding projects you have lined up including smoothing doors, skirting boards, and more.
With this purchase, you will also be given 6 interchangeable sanding sheets in coarse, medium, and fine that will work on wood, plastic, or metal applications. This power tool is lightweight and ergonomically designed for comfort while working on all your projects. It will not become too cumbersome if it is being used for extended periods of time.
If dust collection is a feature you are looking for in a detail sander, then the dust extraction system on this power tool is what you need. It has a removable dust collection box that collects the debris as you work. This gives you a much cleaner working surface and improved visibility.
It also has a simple hook and loop base so you can easily change the sanding heads, which is ideal for helping you minimize downtime while working on your projects. Another one of the bigger advantages of this detail sander is its affordability.
However, even with all the positives, there are a few cons to keep in mind. For example, this tool can be noisy, and dust collection isn't as great as you would expect.It can be hard to maneuver at times and really is only best suited for smaller projects.
Sander Buyer's Guide
Finally, before you set off to purchase your new detail sander for 2020, there are a few things to take into consideration whether you are just looking for a detail sander or prefer a multi-purpose tool for your workshop.
Speed Settings
Detail sanders need to have multiple speed settings. The more speed settings your tool has, the more options you will have as you complete your projects. However, with these extra speed settings, there may be a higher price tag. Make sure to factor in how accurate you can be with variable speed control, and you will see that it is well worth the price.
Warranty
Good warranties are always good to have. However, not many buyers actually pay attention to the warranty they are offered. A good warranty will take care of the tool if something happens within the first year of use. Good warranties also often mean that the manufacturer stands behind the quality of their product, and they don't expect anything to go wrong.
Dust Collection
Dust management and collection is another issue when using a sander. It can be messy while you work, so you want something to help with this. So, when finding the best detail sander, look for one that has a good dust port and dust collection bag to help with the cleanup.
Conclusion
Now that you have a better idea about the options you have moving forward, you are sure to find that choosing your next detail sander for 2020 will be a much easier task to accomplish.Make sure to find a detail sander that will accomplish what you need done while also fitting nicely into your budget.